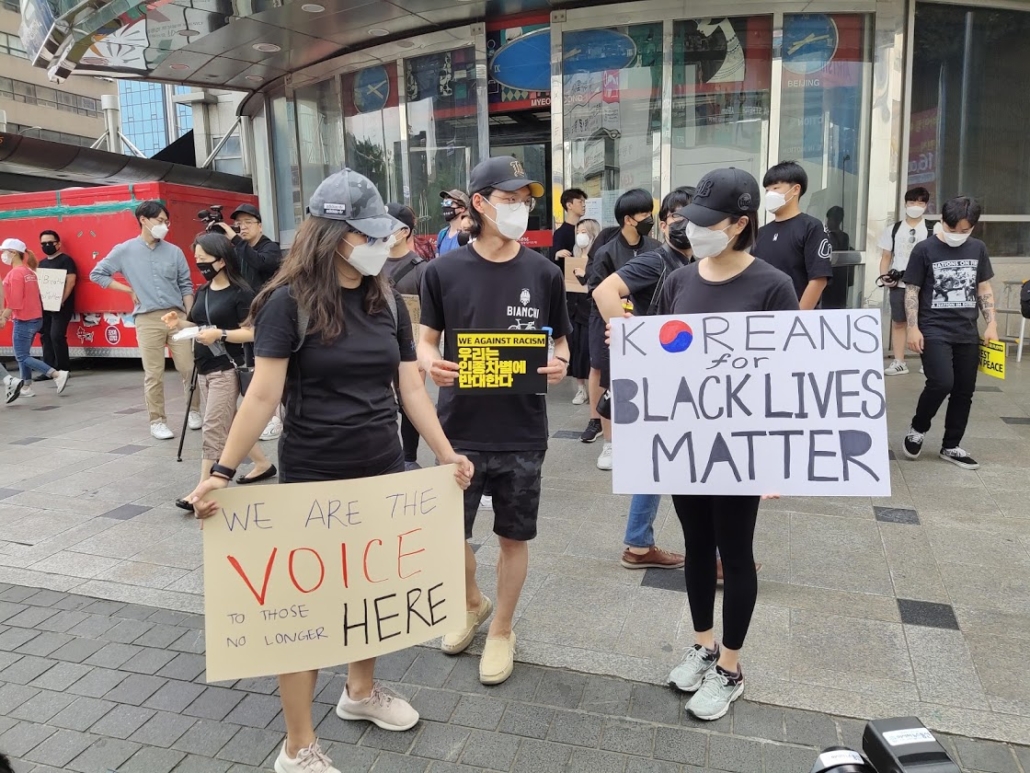 By Danielle Young
On Jun. 6, 2020, the story broke that BTS, the world renown K-pop sensation, had donated $1 million to the Black Lives Matter movement. The response from this news was positive, well-received, and celebrated widely throughout Black Twitter and fans of the group, myself included. There was a massive movement within the Black BTS fan community for BTS to be involved, to use their substantial platform to uplift Black voices as they had with other issues.
Their Love Myself campaign with UNICEF was a digestible and, generally, non-controversial stance to take — no one could argue against stopping violence against children and teens. But in a world saturated with white supremacy and anti-blackness, stating that Black Lives Matter is controversial and argued against.
BTS not only stated that Black Lives Matter, but they also backed it with monetary support. They should not be alone in this, but all of K-pop should be mobilizing to support the Black Lives Matter movement, especially the larger companies like YG and JYP Entertainment. However, this should happen not out of obligation — like many large companies in the west have been doing solely performatively to save face and money — but because the backbone of K-pop is Black culture.
On Jun. 18, SM made a statement about Black Lives Matter — a rare time they've taken a political stance as a company. Most people would argue that this was a good thing, and it is because it now puts them in a place where they can be held accountable. But we are at the point in this movement where statements are not enough. SM has had a long history of appropriating Black culture and ignoring criticisms by continuing to be repeat offenders, and was recently called out by a Black songwriter who alleged the company hadn't paid her appropriately for her work, though another songwriter later alleged that from his perspective SM paid "well." Hopefully SM realizes that Black Lives Matter is more than just police brutality in this single moment and reflects their commitment to this issue in the future.
---
---
The magic behind so many of K-pop fan favorites songs are Black people. K-pop exists only because of Black people, and we are owed that much from an industry that continues to appropriate Black culture and ignore the very people who demand that the culture be respected. To say that Black Lives Matter and make donations to the movement is truly the very least that the K-pop industry can do.
So many people's interest in South Korea and the culture is because of K-pop, and Korean entertainment in general. Fans want to learn Korean, and some may even have a romanticized vision of the country and its people. For Black people and biracial Black people in South Korea, the country is not the land of K-pop and K-dramas. They experience prejudice and distcrimination solely because they are Black. Anti-Blackness thrives in South Korea just as it does in the U.S. and other places in the world. And while it is unfortunate that we rely so heavily on celebrity culture to influence what we believe in, the impact of K-pop idols supporting the Black Lives Matter Movement can have a massive impact, giving those who have already been doing work in South Korea the platform to have their voices amplified. With BTS donating $1 million, it directly caused a spontaneous project for the entire fanbase to mobilize and match the donation under the hashtag #MatchAMillion.
People in South Korea joined in on the global marches for equality for Black lives on Jun. 6 in Seoul. The protests serve as a starting point for South Korea to reexamine the societal issues that are ignored and then left to fester and be normalised. There were about 100 people at the protests and those who had some things to say shed light on the issues in Korean society towards Black people. A Black teacher even had the chance to voice their experience stating, "Racism here is when I find a seat in the subway and people avoid sitting next to me, or when my friends and I are turned away from clubs for no reason, or when jobs only want to hire white candidates."
This experience mirrors what Sam Okyere, a Ghanian TV personality, said in a viral interview, where he was on a subway and a Korean woman asked, "What a Black bastard like [him] [was] doing in Korea," telling him to go back to his country. Shim Jihoon, a 34-year-old social worker who organized the Black lives march said that, "People have asked why I organised such a protest in our country, but I know that there are migrant workers, multicultural families, and international students who face discrimination even here at home."[If attitudes don't change] what happened to George Floyd might happen here too."
South Korean activists are hoping that the younger generation will take on the torch that the previous one fumbled. As a Black fan of BTS and a general enjoyer of the K-pop genre, I'm not sure what the future of the movement will look like in South Korea, or really in the world for that matter. It was surreal to see the fans of BTS raise an additional $1 million to match BTS's for Black Lives Matter. The praise for the feat was bountiful, but I saw what happened before there was a decision to match the donation: fans who were posting on Weverse about Black Lives Matter, a platform where artists and fans can talk directly, were blocked from trending. Of course, there were supporters, but the sheer amount of dissenters was deeply discouraging and hurtful.
This is unsurprising and not unique to fans of BTS. Across K-pop, idols have done things like blackface, appropriated Black hairstyles, or have used racial slurs or imagery deeply rooted in racism. When Black fans of these groups voice their opinions on why this is harmful and not okay, they are met with the same pushback and excuses out the wazoo. More often than not, racism against Black people is viewed as an American problem and not something that can permeate through the lives of those who are not white and in America. It is everyone's responsibility to dismantle the anti-Blackness within their society because anti-Blackness is global. With the latest mobilization of activism, it is important that South Korea and the K-pop industry really take a look at how they view Blackness and Black people, not only within the U.S., but also within their own country.
The intersection between K-pop and Black Twitter could be part of this turning point. Fans of K-pop have a lot of influence, and the relationship between fans and artists can be one that is symbiotic. Information on how to mobilize and educate people on racism, white supremacy, and non-Black people of color's responsibility in dismantling anti-Blackness can be disseminated, just like projects to match BTS for their $1 million donation. Like everything in this moment for the movement, it is about what we do after the dust has settled and the hard work begins.
What are your thoughts on K-pop companies and stars' place in speaking out against Anti-Blackness? Let us know in the comment section below and be sure to subscribe to the site and follow us on Facebook, Twitter, Instagram, and Tumblr to keep up with all of our posts.
KultScene is a writer-driven website dedicated to creating a platform where diverse voices' takes on K-pop can be heard. If you like this post and would like to see more by helping support KultScene's writers fund, please email us for more details.
https://kultscene.com/wp-content/uploads/2020/06/IMG_20200606_155817.jpg
840
1120
KultScene
http://kultscene.com/wp-content/uploads/2018/02/KULTSCENE-LOGO-2018-TRANSPARENT-RED.png
KultScene
2020-06-22 09:20:18
2020-06-22 10:00:45
Why K-pop idols should support & engage with Black Lives Matter