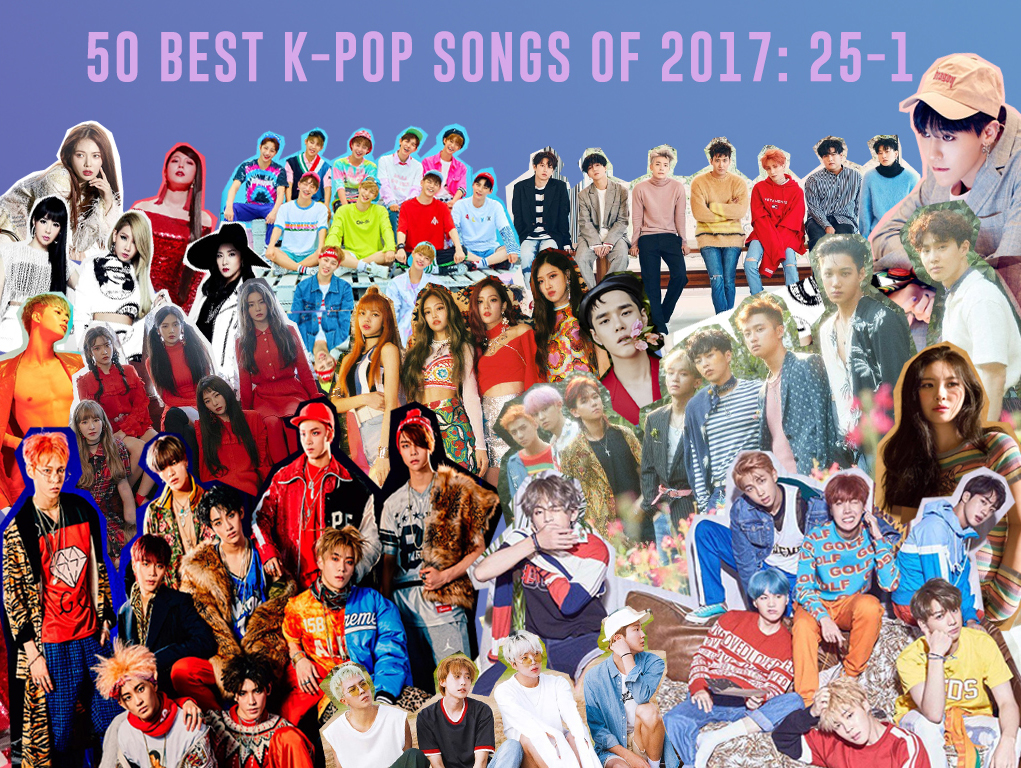 There's no denying that it's a solemn time for the K-pop community. But it's during sad times that it's important to think about what puts a smile on our faces, and for a lot of people, that's K-pop. Throughout 2017, artist gave us a lot of songs that made us feel happy and made us dance, which then gave us a lot of good times. And while it was hard to narrow down our absolute favorites of the year, here are our 25 best.
25. "Love" by DEAN feat. Syd
DEAN's emotional sensitivity is always present on his music, but with "Love," he takes on a very sexual topic in a very respectful yet sensual way. The song features American singer-songwriter Syd as the love interest in this song. Her voice fits perfectly with DEAN's, creating the sensual mood of the track. The lyrics talk about a new relationship that seems to be full of sexual tension as they tell each other on the song, "I got intentions baby, But, I'm gettin' restless babe, I need your blessin', baby I'll love you if you let me baby" which bring us to know that DEAN's is very respectful and aware of consent in a relationship; whether it is about sex or taking the relationship slowly he can wait as long as the other person wants and until they are ready. "Love" starts with a little bossa nova and samba melody that transforms into a very minimal tropical record that seems very fresh and connects perfectly with the new relationship that the lyrics talk about. The beats keep a steady base that explodes at the climax, very similar to how a relationship starts and slowly builds up and gets filled with love as time passes by. DEAN's solo at the end of the song represents how madly he is in love while the music changes drastically and gives of a feeling that you are in cloud nine. And, of course, nobody can forget the lyric when DEAN sings in a very sexy voice, "I'll f*ck you if you let me baby."
—Alejandro
24. "You Are" by GOT7
For their second comeback of the year, GOT7 went ahead and switched it up again, further proving just how multifaceted these guys are. In a very unexpected move, J.Y. Park allowed the group to release a single co-written by one of the members, JB. "You Are" diverts from the hip-hop and trap sounds from their previous singles and presents a smoother, dreamier, synthier soundscape. The song is just as contrasting as JB is: velvety smooth vocals yet with an EDM, uplifting vibe. It's impossible not to smile when listening to this song, for the members' deliveries is probably their most tender and, dare I say it, sincere yet. "You Are" might not have done well in Korea, but it let audiences know that GOT7 is working towards producing and writing their own tracks in the near future. We can only expect bigger, experimental switch ups by them next year and we can't wait.
—Alexis
23. "Plz Don't Be Sad" by Highlight
After ditching their old company, the majority of Beast formed their own company Around Us Entertainment and returned as a new group, Highlight. Their first release as Highlight was the bright song "Plz Don't Be Sad." Written and produced by Junhyung's production team Good Life, the song is about the boys doing anything in their power for you to smile. And with such a vibrant and upbeat song, it is very hard not to. With their first song, Highlight chose to break away from the typical sound their former group's singles went for and instead offered up an extremely catchy chorus full of "woah ohhs" that are bound to get stuck in your head. The video is fun, and features colorful images of the group doing random things while the chorus has them dancing around in bathrobes. Everything combined makes absolutely no sense, but you ultimately can't help but smile at the ridiculousness.
—Katherine
22. "Kokobop" by EXO
From the title alone, you would expect this song to be a super summer bop, and of course EXO did not deliver less than this. But what we couldn't predict is that "Kokobop" would be a reggae-based instrumental song. More surprisingly, elements of trap and EDM were present as well. Does this combination work well? To be honest, I'm still not sure, and maybe that's why this was one of my most listened to songs of the year. There's something intriguing about "Kokobop" that makes it grow on you. I guess it's one of those songs you just find noisy and a bit messed up when you listen for the first time, and then you get trapped listening to it again and again, trying to understand where does the chillin' "awooo"'s, "down down baby"'s and "oh oh oh"'s connect with such aggressive trap beats and the loud breakdown. Those alone, however, are very fun moments, and that's more than enough for "Kokobop" to have been one of the catchiest tunes of the year.
—Ana
21. "Camo" by BoA
The long reigning queen of K-pop BoA returned and graced us with the presence of her new single "Camo" this year. The song starts off with a staccato base beat that crescendos slightly to the chorus, but the tempo of the song overall does not change much allowing the tune to flow seamlessly and without effort. The video also does a very good job complementing the elegant style with a bold red and black color scheme and the optically pleasing effects that occur throughout the video. The song, video, and dance all give off an edgy and sophisticated mood which is complemented even further by BoA's sultry voice. "Camo" may not be as in your face as many songs are now a day, but it still was able to capture it's audience with minimal effort; something only a 17-year industry veteran has no trouble achieving.
—Katherine
20. "Eclipse" by Kim Lip
Kim Lip began the ODD EYE CIRCLE era with an easy confidence on this smooth electro R&B track. "Eclipse" grows with impassioned ease building an eclectic electronic bed of sounds for which Lip can emote between. Even from just the music video she was by far the most natural performer, a girl the group could be built around. Produced by Daniel "Obi" Klein and Charli Taft, "Eclipse" was a new style for LOONA but nothing too progressive by itself. It more than makes up for that in its silky variety of synths. The bridge is a moment to savour as well, as fingersnaps and gorgeous vocals slow things down revealing the depth of what Kim Lip can do.
—Joe
19. "Shine Forever" by Monsta X
After the initial release of their first studio album The Clan Pt. 2.5: The Final Chapter in the first quarter of the year, Monsta X did the K-pop thing to do and followed up with its repackage, Shine Forever. With this, we were also introduced to the eponymous "Shine Forever," a natural future bass follow up to the electronic-heavy "Beautiful." Staying true to its genre, the prominent bassline and synthesizer inform listeners of the song's modernity, albeit at the expense of a more enthralling hook. Indeed, trends seem to trump over a classic refrain, but if we can ignore this minor musical faux pas for the pre-chorus and raps that's always been the focal point within the group's discography, the rest of "Shine Forever" is actually quite fetching. Life is too short to fuss over diction when I.M's iconic "One and only like a holy" is the best introduction to a narrative since "Once upon a time." The progression to the pre-choruses only gets better as more layers of claps and percussions are overlaid to amount to an exciting climax. The boys' eternal preoccupation with beauty and light reaches new heights with "Shine Forever," making the single yet another valuable contribution to their growth.
—Shelley
18. "Babe" by Hyuna
Hyuna had us used to expect fun, bold, sexy and irreverent songs everytime she makes a comeback. So, who would expect something like "Babe"? Although it still has some of Hyuna's trademarks, like her rap and proper beats for an energetic choreography, "Babe" is different from everything she has done so far, and that change was very welcomed. In this cute, delicious synthpop jam smartly filled with some trap, hip-hop and tropical house elements, Hyuna sings about a lover that makes her feel like 25, 24, 21-years-old when she is actually 26. Youth has always been an implicit background for Hyuna's works, due to the fact that her solo works revolved around concepts of partying, exploring sexuality, and others associated to teenagers/young adults' yearning for living life to its fullest; but with "Babe," the feeling of youth shows us a different side of her. Driven by a lighter production and a girly melody, "Babe" leaves the impression that, this time, Hyuna's sassy and fun personality is flowing naturally, with no need of a concept that would push her to show it.
—Ana
17. "Goodbye" by 2NE1
While this song passed over the radar of most K-pop fans this year, Blackjacks like me will never forget the emotional weight of this track's dropping. Singing over a beautifully repeating guitar riff, CL, Dara, and Bom reflect on the unbearable pain of splitting up: "Don't look at my tears that can't hold onto you/Just don't go." CL's vocal performance is especially evocative, questioning, "Does anyone know, does anyone know/how it makes me feel?" repeatedly throughout the choruses, and demonstrating through her vocals alone her attachment to the group even after its disbandment. The song is beautifully simple, demonstrating that even after break-up, 2NE1 is a name known for musical quality. And the lyrics of this song, many of which imply some future continuity for the group — "until the day we meet again," "when winter passes, spring will come again," and the self-explanatory Korean-to-English translation of "안녕 (Annyeong/Goodbye)" also signifying "Hello" — indicate that 2NE1 is a name that may (hopefully) return in the future as well.
—Kushal
---
---
16. "Energetic" by Wanna One
The highly anticipated debut of Wanna One, a group created from the top 11 winners of survival show Produce 101, definitely didn't disappoint. Right from the piano intro, "Energetic" was a perfect match for the skills and image of the group, where their individual strengths were harnessed to create this catchy dance track and they could each be highlighted. The vocal thrills provided by members Jaehwan and Sungwoon further tightened the song, and when paired with their synchronised complex choreography this performance was such a joy to watch. It's no wonder that their popularity, both domestically and internationally, continued to skyrocket after this debut track. While they'll only be active till the end of 2018, I'm looking forward to the amazing music they'll be releasing till then.
—Anna
15. "Untitled, 2014" by G-Dragon
If you've ever wanted to see the unadorned side of Kwon Jiyong, better known as G-Dragon, look no further because "Untitled, 2014" is the open book he's been waiting for you to see. When people hear the name "G-Dragon," they think of his styling and swag; G-Dragon the rapper. But Kwon Jiyong, the artist, the musician and singer, is what made "Untitled, 2014" the treasure that it became. G-Dragon illustrated his sentimental and compassionate side with this ballad and he made all of us "soft." With the accompaniment of just a piano, it allowed listeners to focus in his voice and his emotions without being caught up in anything else.
—Tam
14. "Black Suit" by Super Junior
There's something innately satisfying about seeing a K-pop group well into its second decade able to come up with something that feels very much in accordance with their biggest hits but that also improves musically. Serving both as a testament to the act's malleability and capabilities, "Black Suit" does just that. Like all of Super Junior's biggest hits, there's an immensely danceable, repetitive hook of a chorus. But, as with their other more recent singles, there's a sense of maturation in the swing-infused, brassy sounds of the retro-tinged song that may be a surprise to people who haven't kept up with SuJu's most recent releases. Though two of their main vocalists, Ryeowook and Kyuhyun, are serving in the military, there's nothing remotely disappointing about this dynamic single as its energetic tune serves up both Super Junior's typical sense of playfulness and their finely-honed vocals.
—Tamar
13. "All Night" by Girls' Generation
Alternative title track "Holiday" is, from a lyrical standpoint, likely more direct in celebrating Girls' Generation's success and long-lasting togetherness. To me, however, "All Night" is the more powerful 10th anniversary release for the legendary girl group. Embracing EDM and vaporwave influences on this retro-oriented track, GG demonstrates how easily they devour new songs and make them entirely theirs, demonstrating the endless versatility characteristic of K-pop's face-value girl group. Seamlessly moving between melody and pseudo-rap, the song shines most in its chorus, which is at first minimalist but grows in speed and power with each iteration. Along with dubstep brilliance in the bridge, "All Night" is indicative of the fact that Girls' Generation is a musical and performative force in the international music industry that cannot be, and should have never been, ignored. 10 years in, they continue to innovate on the concept of dance pop in ways that reflect their maturity from girlhood into womanhood.
—Kushal
12. "Spring Day" by BTS
Expectations were high for BTS's comeback in early 2017, due to the enormous success of their previous single, "Blood, Sweat and Tears." Some got disappointed when the long-awaited song was the mellow "Spring Day." But, honestly, at that point, BTS was already standing in such a high place (even though no one could imagine how immensely they'd still grow over 2017), that the only way to ruin everything would be by releasing something really really bad —and that's not the case of "Spring Day" at all. The song is very touching and shows more emotional colours of the boys, something that was great to see after constant fierce and powerful comebacks. Of course, being a work from BTS, a group that is making their mark for their carefully planned concepts, "Spring Day" is not only a cute song about missing someone. The word "spring," in this context, represents the flourishing of a new phase, perhaps a more mature one, after their previous concepts that focused on youth. Just like the season of flowers, "Spring Day" was, for them, a beautiful prelude to a series of bright moments, that would end up becoming their most memorable year so far.
—Ana
11. "Limitless" by NCT 127
Hip-hop is not a genre we associate with SM Entertainment's current generation of K-pop idols, so when NCT 127 first debuted last year, skepticism arose. However, any doubt went poof right at the start of 2017, when the group dropped "Limitless." With the help of SM's two best rappers (yes, I went there, don't delude yourself otherwise), a slew of outstanding dancers, and vocalists with honey smooth tones, NCT 127 delivered one of the most powerful performances of the year. With a grime base, "Limitless" offers pulsating beats, tempo changes, and a climatic chorus sung by all the members — a rarity in K-pop. In probably one of the most competitive eras in K-pop, NCT 127 proved this year that they're ready to take on the big boys, and it all started with "Limitless." SM finally debuted their most well-rounded group, with members that both embody what everyone has always loved about K-pop so much and what the scene is becoming as of late. The NCT concept is still a confusing one, with its various units and rotating lineups. But we for one hope NCT 127 is a permanent one, for they have the potential to become a staple as early as next year.
—Alexis
10. "Peek-A-Boo" by Red Velvet
Red Velvet capped off the best year of their career so far with "Peek-A-Boo." The girls encountered wicked attraction in "Rookie," a comforting love in "Red Flavor," and on "Peek-A-Boo," all of those emotions get tied up into anxiety. Producers Moonshine, Cazzie Opiea, and Ellen Berg Tolbom build a minimal bass of bubbling synths and a drum beat as they slowly let those anxieties creep into the song. Horns blast in and out, a xylophone style synth is there (for the trademark childish sound of theirs) and the girls ad-lib at every moment they can (sometimes of fear "oh gosh!" sometimes of excitement "let's go!"). These details reveal how they feel about falling in and out of love. They struggle to define it while trying to convince themselves that they are "fine fine fine." There's an unpredictability to the way Red Velvet realise a song. It's a feeling totally unique to them, and it makes them the most exciting act in K-pop.
—Joe
9. "Easy Love" by SF9
As the first male dance group to be formed by FNC Entertainment, which is more well known for bands such as FTIsland and CNBLUE, SF9 does showcase fancy choreography in "Easy Love," but what stands out more is their vocals and the music production of the track. With four rappers in the group, it'd be hard for each one to stand out, but SF9 does precisely that with each having a distinct style in their parts. The build up to the chorus and the chorus itself are also done well, with traces of EDM present but with the interesting melodic lines constantly being highlighted, especially in the chorus where there is a lot of both upward and downward movement. It's only been a little over a year since their debut but SF9 show a lot of promise and will definitely be able to release even better music as they grow as artists.
—Anna
8. "Don't Recall" by KARD
Scoring a top 10 position on this list is a feat for any artist, let alone a new one. Let alone a pre-debuted one. Let alone a pre-debuted co-ed one! KARD is completely unique in the K-pop world, from tropical house-inspired musical stylings to a refreshing co-ed member lineup. And "Don't Recall" captures exactly what makes KARD an exciting addition to the world of K-pop, with innovative, gender-bending choreography (gender-bending by K-pop standards, that is), an enticing blend of male-female vocals, and stunning post-chorus dance break. While the group itself will need to keep innovating to find a variety of sounds and styles that suit them, KARD's "Don't Recall" is an amazing demonstration of what co-ed member structures could mean for musicality in the K-pop world.
—Kushal
7. "Red Flavor" by Red Velvet
One of the year's iconic bops, Red Velvet came through guns blazing with "Red Flavor." The title itself sounds so similar to their group's name — seemingly fitting of a song most definitive of the group's musical and performative character to date. Paired with its quirky and slightly overwhelming music video, RV succeeded in capturing the essence of a quintessential summer track in the context of their own quirky aesthetics and musical stylings. With building instrumentals and bouncy vocal harmonies in the chorus, Red Velvet establishes and carries their own trademark Red Velvet sound, a factor useful in maintaining popularity at this point in their very successful career as a girl group. "Red Flavor" is undoubtedly going to be one of the most-remembered 2017 K-pop songs, an iteration of K-pop girl group summer almost desperately needed in the power vacuum created by some untimely disbandments between this year and last.
—Kushal
6. "As If It's Your Last" by Blackpink
Usually when a song is one of those three-fers kind of deal, the end result makes its listeners question who let it slide by production. But what happens when production is one of the most renown, one of the most prolific? Teddy, YG Entertainment's veteran in-house producer, lets experience speak for itself and challenges just how many distinct compositions he can fit in approximately three and a half minutes with "As If It's Your Last," and for the first time in K-pop hot mess history, it doesn't suck. The beginning is something of a red herring, where synths and a pounding bass digresses away from whatever subset of EDM it was supposed to be, and make way for a variety of upbeat drums. The gritty front that the girls assume rapidly dissolves as well when the song unexpectedly makes a turn for the bright and poppy. The displaced hook lends the song its ultimate "Pink" quality, which is truly refreshing in light of all the "Black" concepts the group have done up until then. Thanks to seasoned producers, Blackpink is able to enjoy elements of house, pop, moombahton, and more. Now if only they were able to come back with more than a single a year…
—Shelley
---
---
5. "Never" by Sons of the People from Produce 101
2017 was the year of trop-house in K-pop, and while it's arguable whether we were done with the genre by the mid-year, seemingly out of nowhere we were bamboozled by a gem in the most unexpected of places: the competition show Produce 101. Produced by Hui, Wooseok, and E'dawn of the Cube Entertainment group Pentagon, they gave the show their song "Never" for the concept challenge and was performed by Sons of the People. While the beat is a bit repetitive, it is the overall performance and vocals what made the track impactful and impossible to resist. Consisting of a lineup of members of which almost all of them ultimately made it into Wanna One (#JusticeforJonghyun, never forget), "Never" seemed like the one that was ready to be a single. From Woojin's sleek and assertive rap to Seongwu's surprising vocals to Minhyun's angelic visuals to Jaehwan's iconic belt, how could this song not reach an all-kill on the charts? In a way, it was "Never" what sealed the deal for the members, for it showed just how much star power and talent they had and how cohesive as a group they could be. The managed to take your typical trop-house song and made it into a hit. And it is so popular and a great live performance track that Wanna One rearranged it to include the rest of the members and perform it at their shows.
—Alexis
4. "Move" by Taemin
It's hard to explain the magnificence of "Move" as a song itself without alluding to its music video or to the very figure of Taemin. After all, musically speaking, it is possible that another vocalist could have done a decent or perhaps even a good job, but it wouldn't be the same thing; it wouldn't sound as if the song was straight tailored for someone who'd connect every move of their body to every note of this simplistic yet exquisite melody. The chords and the basslines of "Move" are almost like sonic representations of Taemin's eyes in the music video, it's not even funny. The single resembles the groove of pop legends such as Prince and Michael Jackson, whose work had influenced Taemin in previous occasions, and it's indeed a performance-oriented song. But these aren't the only reasons that make this song so perfect for him. Neither 80's influence nor songs made for dancing are rare in K-pop. But when it comes to artists who can carry a song so full of sexual tension with that level of elegance and artistic maturity, especially in such a young age, Taemin is definitely one of a kind. There are many moments in which "Move" could have taken a different direction in order to sound more like a catchy mainstream hit, but I love the fact that it didn't. There isn't one distinctive, outstanding moment, as this is definitely not a song that guides you to one specific highlight. Instead, it keeps you holding your breath during the whole time, never allowing tension to be released, and almost forcing you to pay attention to every word Taemin's singing. The SHINee member handled this song amazingly and presented us one of the most fascinating moments of the year.
—Ana
3. Sunmi 'Gashina'
Explosive in its dark synth-pop glory, Sunmi's "Gashina" is the unapologetically vengeful breakup track that defined much of K-pop in the final months of 2017. With dancehall elements and dramatic, '80s-styled beats, the song is a sultry banger that's filled with double entendres as the former Wonder Girl questions why her former love has turned their back on her pretty, and perhaps thorny or even bitchy, self. Confidently explosive, this is one of the fiercest songs K-pop has seen in years and Sunmi's dominating, feminist-forward style captured the attention of all of Korea through the gun-shooting and gender-role-swapping choreography of "Gashina." Hopefully we'll be seeing more of this from Sunmi as she takes ownership of her return to her solo career.
—Tamar
2. "Not Today" by BTS
In stark contrast to the mellow "Spring Day" off of the same You Never Walk Alone reissue, "Not Today" is the badass sibling and solution for fans of BTS's dynamic powerhouse sound. It attempts to replicate the underdog hubris of their "Dope" days and large scale, militaristic production of "Fire" while retaining its own identity so as to not get lost within the group's body of similar works. The inflections in Jungkook's "겨눠 총! 조준! 발사!" ("Point, aim, shoot!") battle cry and RM's monologue in the introduction among other details definitely makes this their most combative song to date. Beyond using their platform as a means of resistance and a call for action, the electronic inspired track feels cinematic too, with blaring, dramatic synths cueing imminent peril. Those synths, in addition to the purposeful lyrics, continue to resonate with us even as we cap off 2017.
—Shelley
1. "Really Really" by WINNER
After losing their lead vocalist, WINNER could have played it safe and returned with the sort of mellow music that they started their career with. But instead, they amped up their sound with the addictive rhythm of "Really Really." Nothing was quite as trendy this year in K-pop as breezy trop, and this song was the epitome of that with its relaxed beats, dynamic drops, and full-bodied synths. Co-written by Kang Seungyoon and Mino, there's an immense sense of what WINNER wants to be without Nam Taehyun. Split pretty evenly between rappers and vocalists, the single plays up the band member's individual skills, with the finely-crafted house track emphasizing their soft blend of hip-pop to create a sound that's both captivating and fun to dance to.
In a pretty crappy 2017, "Really Really" arrived not only to reinvigorate WINNER's career but also give the K-pop world a work that was vibrantly uplifting. It's a good look for the now-quartet and they continued it with their follow-up singles ("Island" and "Love Me Love Me") and hopefully next year will see even more of that from them.
—Tamar
Make sure to also watch our video countdown of the best songs of 2017!
What was your favorite release of the year? Let us know in the comment section below and be sure to subscribe to the site and follow us on Facebook, Twitter, Instagram, and Tumblr to keep up with all of our posts.
https://kultscene.com/wp-content/uploads/2017/12/50best2017a.jpg
768
1021
KultScene
http://kultscene.com/wp-content/uploads/2018/02/KULTSCENE-LOGO-2018-TRANSPARENT-RED.png
KultScene
2017-12-23 12:41:58
2017-12-24 07:22:18
25 best K-pop songs of 2017