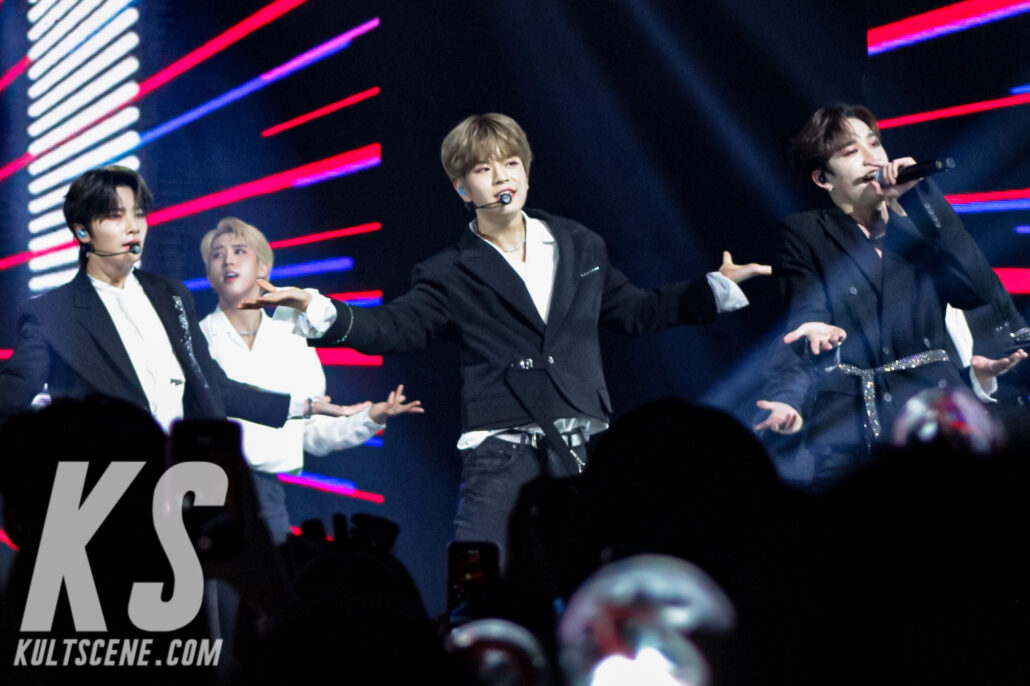 As the screens opened one by one during the theatrical VCR that showed the breaking of a new lock each time, the Microsoft Theater in Downtown Los Angeles broke a new threshold of excitement and loud screams. When the final lock finally broke and the last screen separated to reveal the eight members of Stray Kids, we were officially in "District 9." This past Sunday, Feb. 16, marked the last night of Stray Kids's Stateside leg of "District 9: Unlock Tour," orchestrated by SubKulture Entertainment, that took the unstoppable boy group around the country on eight stops.

Stray Kids kicked off the night with a remix of their debut hit "District 9" and continued to electrify the crowd with "Victory Song" and "Question." The group performed "Rock" off their second mini album I Am NOT as they began to interact with lucky Stays —their fans— in the front row before showcasing their incredible dancing skills with their iconic dance break previously seen at KCON LA 2019 that seamlessly transitioned into "Side Effects."

The group took a short break to introduce themselves and officially say hello to the LA Stays, who were eagerly awaiting one of the most anticipated moments of the entire show: Felix doing the famous TikTok "Renegade" dance during his part in "M.I.A." which became a tradition in each city.

---
---
While Stray Kids is undoubtedly talented as a full group, their three units perform just as well alone. The dance line, known as Danceracha, composed of Lee Know, Hyunjin, and Felix were first up with their captivating unit stage for "Wow." Before anyone had a moment to catch their breath, the screen behind opened to reveal Han standing on top of a staircase to begin "Mixtape#4." Although this song appears on 2019's Clé 2: Yellow Wood, the original pre-debut 3Racha version was already a fan favorite for its inspiring lyrics that boast successfully journeying on with a "Broken Compass." The compass is quite an important symbol in the world of Stray Kids; a spinning one can be found inside of their official lightstick, dubbed nachimbong based off the Korean word for compass, nachimban.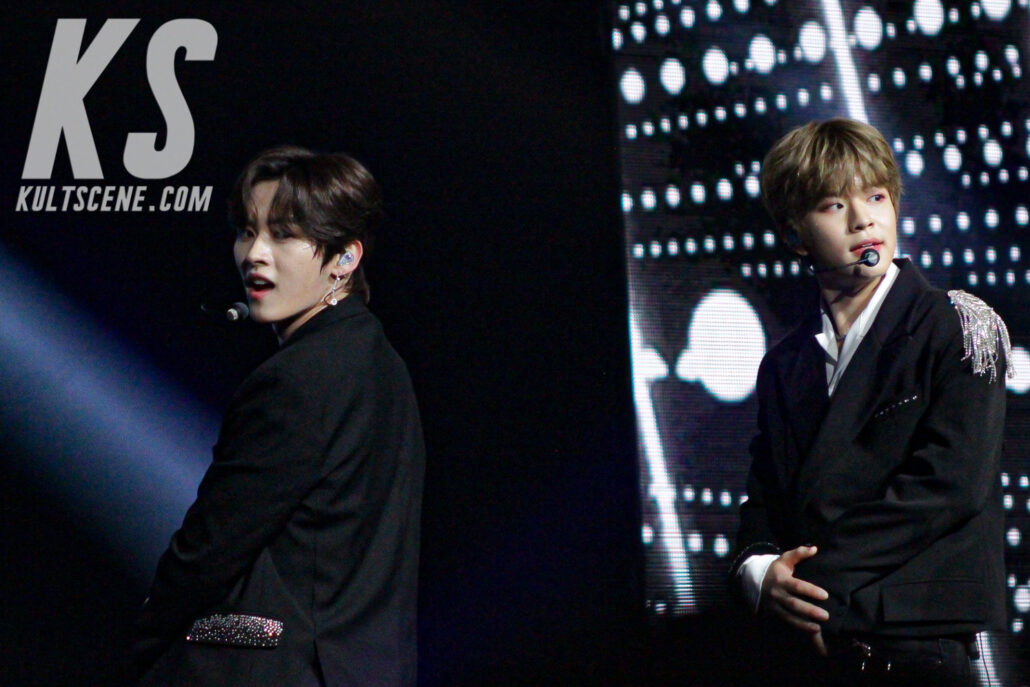 One of the most beautiful moments of the night was the performance of the latest title track "Levanter" and the VCRs that bookended it. In case you didn't know what Stray Kids was all about, Felix's narration introduced the song explaining that "Stray Kids is not the only one who got lost; those who got lost could be anywhere. All strayed steps come together to make a new road and Stray Kids will be with each and every step. Stray kids everywhere all around the world." After the song, a simple but poignant VCR repeated Felix's words, adding on lyrics from "I Am You:" "stay together you and I," and a rendition of one of the group's catchphrases "you make Stray Kids stay" and "we all make stray kids stay."

The VCR ended by emphasizing that their other catchphrase "Stray Kids everywhere all around the world" does not mean just the group themselves, but is a calling to every "stray kid" out there who may feel lost. Later during the night, leader Bang Chan took time to explain that meaning again when he expressed how thankful he was that Stray Kids have created this "district" full of Stays and other stray kids. "It doesn't matter who you are; whether you're a boy or girl or whatever you choose to be. It doesn't matter where you're from … Ethnicity doesn't matter either. Everyone is welcome in our special district and we promise that this special district, we will always have pride in it and always represent our beautiful and wonderful Stays." Chan's heartfelt words brought another tradition of the "District 9: Unlock Tour:" the "best leader" chant that Han started and Stays made heard in every corner of the venue.

Those touching, slower moments were sprinkled in throughout the show, alongside the bright and powerful stages that Stray Kids are known for. The ballad version of "I Am You" that perfectly transitioned into the "We Go" unit stage for the 3Racha rappers Bang Chan, Changbin, and Han executed that duality perfectly. Speaking of duality, Changbin was also a part of vocalists Seungmin and I.N.'s beautiful unit song "My Universe," which showed a different side of the rapper than normally seen during his super fast-paced verses.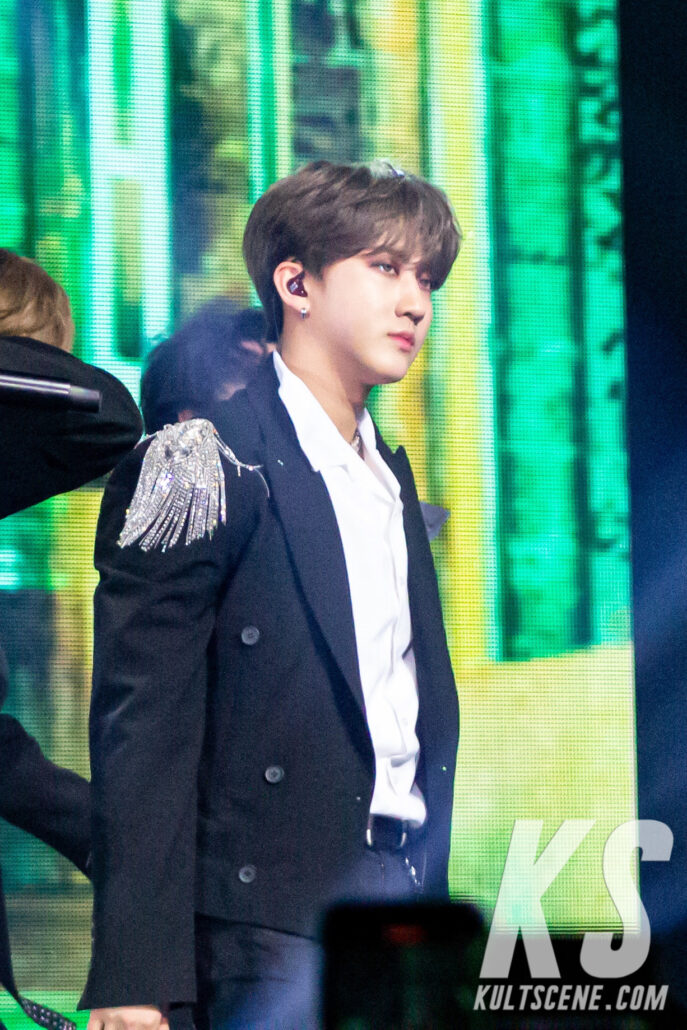 In the last act of the show before the encore, Stray Kids showcased their powerful stages of "My Pace," "Double Knot," "Boxer," and remixes of "Hellevator" and "Miroh." Stays all around the venue joined Stray Kids and enthusiastically screamed the fanchants for these songs, but Stays' work did not stop there. The actual members left the stage but quickly reappeared in video form for the "Stay Featuring" segment, in which Stray Kids instructed Stays to do things like clap and dab on beat for parts of "Get Cool" and "Miroh." The last thing Stays had to do was cheer as loud as they could for Stray Kids to come back out, which they did with zero difficulty.

---
---
For the encore, the whistling of "Grow Up" began and Stays knew it was yet again time to take a moment for reflecting and feeling every emotion. As if the song itself wasn't enough, a VCR with the English translation of the lyrics played behind the group as they performed, reminding Stays "You're doing alright now. Stay strong, cause you'll do just fine. I promise I'll be by your side." Stray Kids made that promise with the release of I Am NOT and have kept it since.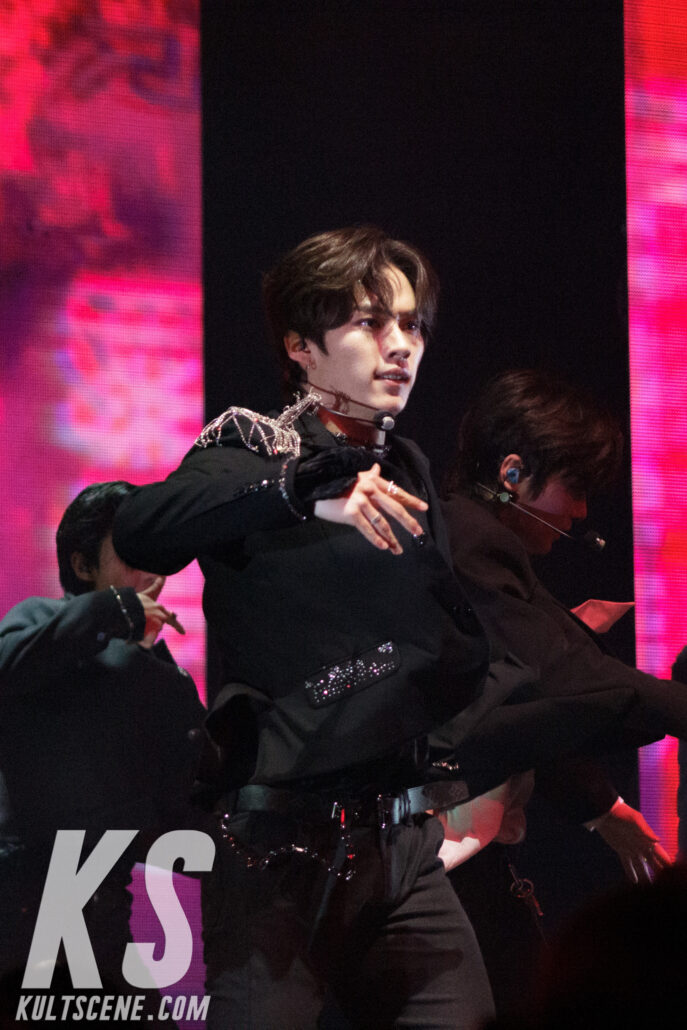 After the song ended, the group was surprised with a VCR project made by Stays full of messages celebrating the group's achievements, thanking them for all they have done for their fans, and reminding them that Stays will always be there for Stray Kids too. The group tried their best to thank their fans for the surprise. Han told Stays, "Because of you, we exist. You guys are brighter than the sun. I'm so proud of you guys." Felix called Stays their "shining stars" and ended his speech telling Stays, "Don't stop shining because you mean everything to us."

This LA show made it obvious that Stray Kids and Stays were indeed meant for each other. Stray Kids created a world full of power and love, and brought it to life with their "District 9: Unlock Tour."
Did you go to Stray Kids' U.S. tour? How did you like it? Let us know in the comment section below and be sure to subscribe to the site and follow us on Facebook, Twitter, Instagram, and Tumblr to keep up with all of our posts.
https://kultscene.com/wp-content/uploads/2020/02/AA59EBF4-AB4C-40E0-8B43-BBD013FC19C4.jpeg
1015
1523
Emerson Redding
http://kultscene.com/wp-content/uploads/2018/02/KULTSCENE-LOGO-2018-TRANSPARENT-RED.png
Emerson Redding
2020-02-19 07:08:57
2020-02-20 11:16:59
Stray Kids unlock last stop of their US tour in Los Angeles