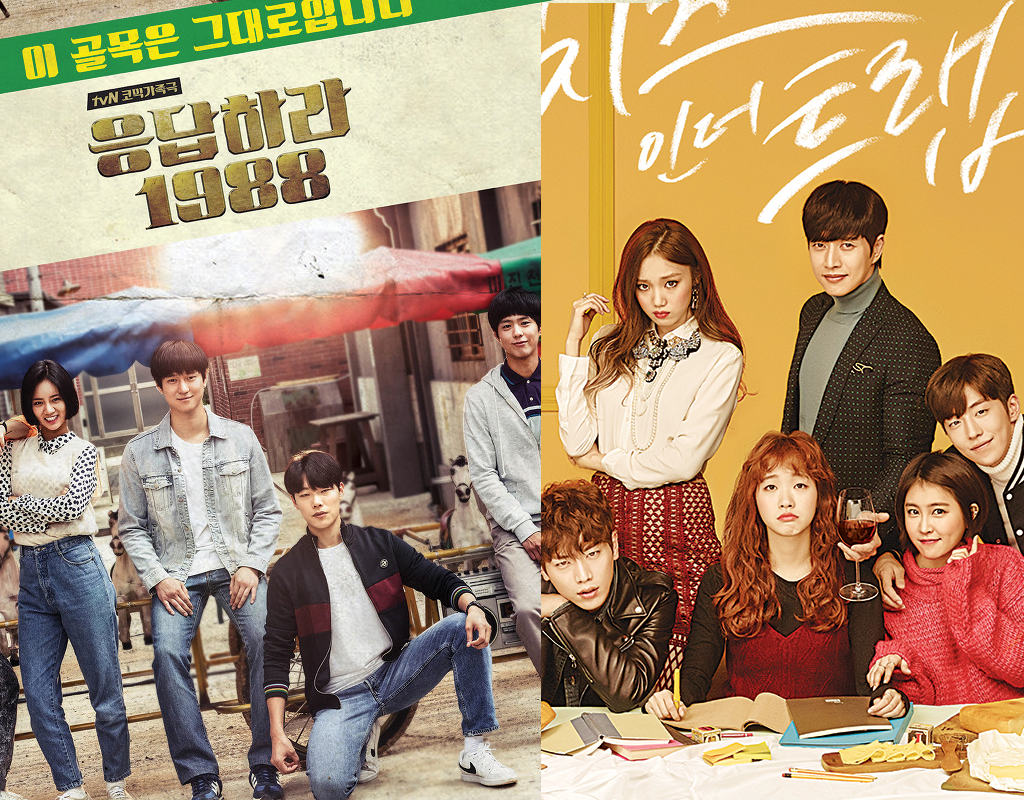 South Korean cable network tvN, owned by CJ E&M, has turned into one of Korea's trendiest channels. Since 2012's "Answer Me 1997," the station has produced hit show after hit, proving that the channel was able to put together a great experience for viewers as an alternative to the shows produced by Korean broadcast channels. But as tvN continues to compete, and often surpass, Korea's broadcast programming weaknesses are rearing their faces at a time when tvN can make or break its image.
However, tvN's growing focus on changing the show's plot to focus on the second male lead to try and shock viewers has instead resulted in audiences growing appalled at the lack of coherence in some of their latest shows.
[Disclaimer: This article contains spoilers]
tVN's stellar production history that began with "Answer Me 1997" and led through the successes of trailblazing shows such as "Misaeng," "Liar Game," and "Twenty Again" is now facing an identity crisis. tvN's latest shows, "Answer Me 1988" and "Cheese In The Trap" suffered immensely from changes relating to the plots after the show was well under way, in part thanks to sudden changes made during the live-production of the show.
---
---
Rare in Hollywood, live-production is rampant in Hallyuwood. Although more heavy budget dramas, such as "D-Day" and "Descendents of the Sun," are increasingly going to air after completely finishing production, most Korean dramas are still produced while the show is airing with only a handful of episodes fully ready before the series begins airing. Over the years, last-minute production has become rarer and rarer, but 2011's "Sign" is still upheld as a warning of live-production gone wrong: The finale featured numerous editing errors and color bars appeared on air at one point due to last minute editing, revealing that the show had been filming as late as possible.
While neither "Cheese In The Trap" nor "Answer Me 1988" had any last-minute technical issues, another peril of live-shoots has affected both shows: Changing the show in reaction to audiences. Both shows set themselves up as promising one trajectory, but then ended amidst waves of anger from viewers who felt misled by the romantic subplots of the show, a basic tenet of many South Korean dramas.
While Korean dramas are famous for second-lead syndrome, with a secondary attractive male getting his heart crushed by the lead female in favor of the show's main male protagonist, "Answer Me 1988" allegedly changed things so that fans didn't find the show too predictable. The result? Disappointment. "Answer Me 1988" completely changed over the show halfway through. The show, starring Lee Hyeri of Girl's Day, Ryu Jun Yeol, and Park Bo Gum, set itself as a retro throwback mystery with viewers guessing which of the men Hyeri's character Deok Sun would marry. Ten or so episodes in, all signs hinted to Ryu Jun Yeol. Then, with little warning, Ryu's character was thrown to the curb as Park and Hyeri's characters paired off with one another.
Following the show, Ryu revealed he felt disappointed in how his character was essentially ignored for most of the final episodes of the show and not given appropriate closure after certain romantic scenes made both the actors and audience believe his character was the future spouse.
According to fans online, the writer of the show changed the plot so that viewers were surprised even though Ryu had been written in as the husband at the start of the show. Scenes and hints that seemed to point in the direction of Ryu's character as the husband suddenly came to a halt and were ignored as the showrunners tried to tie everything together.
While all actors involved played their parts perfectly, and it was believable that Hyeri and Park's characters fell in love thanks to the pair's chemistry, the way the show carried on for so long under one understanding was jarring for viewers. Perhaps a longer series could have recovered, but writing more than half of the show with one intent then changing suddenly was ruinous and put a halt to the near-perfection of the show.
Similarly, "Cheese In The Trap," which aired its final episode in Korea today, began with an intriguing premise. Main character Hong Seol (Kim Go Eun) tries to understand Yoo Jung (Park Hae Jin), who acts one way most of the time while revealing darker motives that only she is conscious of. As the relationship progressed from friendship to love, Seol struggled like a mouse trying to decide if she would approach the cheese of Park Hae Jin, or if it wasn't worth getting caught in the trap. The show focused on the pair's interpersonal and psychological issues, hinting to the darker side of human nature and psychological disorders.
Or it used to, at least.
It was very clear at one point of the show that both Yoo Jung's hidden and manipulative behavior and Seol's lack of getting close to her peers emotionally hinted to psychological issues. Yoo Jung's character showed signs of antisocial personality disorder, while Seol appeared to be suffering from depression. Neither situation was life threatening or as dramatic as the autism featured in "Good Doctor" or schizophrenia as seen in "It's Okay, That's Love," but the show seemed to be walking the line between raising awareness regarding worrisome behavior and for praising it. tvN appeared to be aiming at the pair coming to terms with their mental health issues and helping one another through the difficulties.
But then Kang Seo Joon's character of Baek In Ho was more sympathetic to the audiences and the showrunners seemed to write Park Hae Jin out from many scenes of the drama. Scenes that were important to show the reasons behind Yoo Jung's darkest actions were cut and plotlines went unresolved. Park, the forerunner, was all but cut from many episodes.
---
---
Park, who has appeared in numerous popular Korean dramas and previously revealed that he took the role seriously and reread the webtoon "Cheese In The Trap" multiple times to get a feel for the complexities and nuances of Yoo Jung, publicly stated that the final version of the drama was not what he had expected it to be.
"I believed in the original and decided to commit the the drama before anyone else was involved, even the director," Park told OSEN. "Now I don't believe in anything." If it was a one off situation, where a main actor was disappointed with his character's role, it would be fine. But not only is this the second time, following "Answer Me 1988," that a male lead character was thrown under the bus for the sake of the showrunners, but the "Cheese In The Trap" producer went so far as to apologize to webtoon writer Soonkki for how the show mistreated the author's characters and plot.
Tropes get a bit boring after time, but the suddenness and lack of exploration depicted in both "Answer Me 1988" and "Cheese In The Trap" highlights the fact that tvN's attempt to respond to the reactions of viewers backfired. "Answer Me 1988" was ruined because fans were aware of the planned plot so the writer altered things, while "Cheese In The Trap" was kept from delving into deeper issues throughout the latter episodes of the show by the audiences' reaction to Seo Kang Joon's character.
If tvN wants to reclaim the trust of its fans, changing plots based on Internet opinion is not the way to do it. Fans look forward for tvN dramas to deliver relatable characters with storylines that inspire and make sense. tvN's previous hits make it clear that the company's showrunners know how to intrigue without being overly dramatic and it is to that point where tvN should aim to return once again.
What do you think about "Cheese In The Trap" and "Answer Me 1988"? Share your thoughts in the comment section below and be sure to subscribe to the site and follow us on Facebook, Twitter, Instagram, and Tumblr to keep up with all of our posts.
https://kultscene.com/wp-content/uploads/2016/03/Cheese-In-The-Trap-Answer-Me-1988.png
800
1024
Tamar Herman
http://kultscene.com/wp-content/uploads/2018/02/KULTSCENE-LOGO-2018-TRANSPARENT-RED.png
Tamar Herman
2016-03-02 04:00:52
2016-03-01 21:01:03
'Cheese In The Trap' & 'Answer Me 1988': tvN's 2nd Male Lead Problem