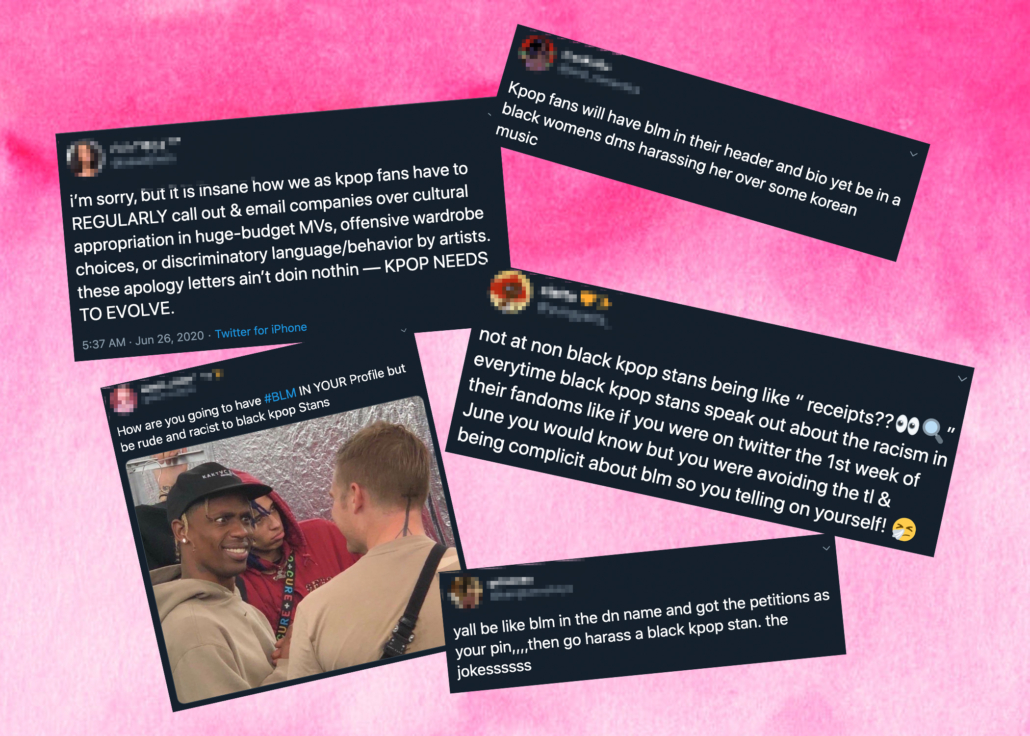 The past few weeks have seen an increased interest in K-pop and the politics that surround it as U.S. fans implemented tactics used to promote their favorite acts to fight police brutality and racism. The emergence of K-pop fans as "unlikely allies" and "unsung heroes" for the Black Lives Matter movement received praise from celebrities, politicians, and the media for their allyship and activism. Their notoriety on social media was reimagined as they became viewed as vigilantes fighting the good fight. That notion was furthered when fans and TikTokers used their savviness to sabotage a Trump rally in Tulsa, OK, by reserving seats and not attending the event.
The mainstream coverage surrounding K-pop's political activism centered around stereotypes and one-dimensional takes on the identity of K-pop's fandoms. The surprise activism of assumed young, white women became the story but ignored the activism history of K-pop fans and the diversity of fans. While media outlets began to explore K-pop's fandom in-depth, the erasure of Black fans from most conversations was a deafening reminder of history repeating itself. Black people – especially Black women – are left out of conversations that impact them. In fandom, the erasure of Black voices results from anti-Blackness and co-option.
Black fans served as the backbone of K-pop fans joining the Black Lives Matter movement. They rallied together laying the groundwork to bring attention to the deaths of George Floyd and Breonna Taylor and police brutality within their fandoms and the K-pop industry. They used #BlackLivesMatter hashtags within their fandom spaces and tagged their favorite acts.
Initially, their efforts were met with pushback aimed to keep K-pop and politics separate from each other.
point is we shouldn't be praising idols for doing something that we should not have had to beg for, FOR DAYS. we are not wrong for saying open your purse, bc donating can lead to others donating. we aren't wrong for asking to spread info and links because it's common sense.

— ♚ 미미 ♡'s 비비 (@macaronvivi) June 4, 2020
---
---
Throughout K-pop's legacy, it has not been able to remain completely apolitical. Artists have shown support for comfort women and been caught in the crossfires of foreign politics in Asia. When the #MeToo movement reached South Korean, girl group Girls' Generation's debut track "Into A New World" became a protest anthem for women fighting against sexual harassment and abuse. The attempts to not pressure K-pop idols into speaking about police brutality is a by-product of the anti-Blackness within the diverse communities that make up the fandom.
Anti-Blackness perpetuates a single-story about Black people and culture derived from European colonization and globalization. These stereotypes are passed within non-Black communities and find placement within K-pop fandom. While some non-Black fans may find themselves accepting of Black fans, the hostility that manifests suggests otherwise. The policing of hashtags that focus on representing Black fans and gaslighting conversations that address their mistreatment are examples of anti-Blackness at work. The most visible way anti-Blackness rears its head among K-pop fans is during conversations about appropriation.
Within K-pop's fandom, the appropriation of Black culture and hip-hop is a constant conversation among its Black fans but often overlooked by their counterparts. They excuse appropriation as ignorance while dismissing or talking over the voices of their Black peers. For non-Black fans, the need to preserve the integrity of a K-pop idol often overshadows the need to provide Black fans the space to educate on why cultural appropriation is harmful. K-pop's incorporation of hip-hop made the latter palatable for consumers who wanted to enjoy hip-hop without having to address its politics and legacies.
However, the politics of hip-hop is fighting for human rights for Black people. Some K-pop acts have taken initiative in acknowledging the impact of Black culture and music on the industry. Some donated to organizations supporting Black Lives Matter, while others advocated by posting petitions and sharing the stories of Floyd and Taylor. Rapper CL of former girl group 2NE1 and R&B singer Crush took to their Instagrams to show solidarity and share how Black culture influences the K-pop industry and their careers.
As seen with the hijacking of #whitelivesmatter, co-option has been a beneficial tool for fans to gain control of or change narratives. While they were able to drown out racist rhetoric and troll the hashtags enough to trend within Twitter's K-pop category, the intent of showing solidarity with BLM became distorted.
---
---
White Lives Matter originated in the wake of Ferguson Protests as a means to preserve whiteness, according to The New York Times. Evolved from a meme, the hate group has become a fixture in opposing Black Lives Matter. Fans who hijacked the tag did not consider the ramifications of trending the name of a dangerous group. The ignorance in their actions furthered Black fans being second to fandom clout, as performing good deeds outweighed addressing microaggressions in and out of fandom and sharing resources to support their peers.
The Black experience is constantly having to choose an additional title –– doctor, lawyer, teacher, etc.–– to prove you are more than what society equates your Blackness to. One can be Black, but to truly survive in this world there must be an additional value. This idea translates into fandom spaces with the underlying expectation of Black fans setting aside their Blackness for the greater good of fandom.
Despite the negative aspects of stan culture, fans who experienced racism within BTS fandom created #BlackARMYsequality and #BlackARMYsMatter to call out racism within the fandom in 2018, according to Teen Vogue. Elismarie Ortiz started the #BlackArmyBeauty project to recognize and celebrate the beauty of Black fans within the fandom after seeing her peers getting harassed, as reported by Buzzfeed. From there, fans created #Blackout days for within their respective fandoms in which fans post selfies alongside the members of their favorite groups. #BlackoutBTS and the hashtags that accompany it display how fans could mobilize to bring awareness to anything. Black fans also fellowshipped with each through cookout and block party hashtags and #blackstantakeover to show community within their fandoms. Much like #Blackout days, fans shared selfies of themselves alongside members of their favorite groups. It may seem frivolous to some, but its ability to uplift and reestablish confidence within K-pop's Black community is a reminder that Black people deserve to enjoy entertainment as much as their peers.
Sharing experiences and providing each other space to discuss fandom experience brought to light how K-pop is covered in western media. Presenting K-pop's fandom as monolithic discounts its diversity. The push for wider representation when it comes to reflecting the demographics within K-pop's many fandoms challenges media outlets to abandon their biases when reporting on K-pop and its fandom. The movers and shakers of modern political movements are left out of narratives until outlets are called out. That should not be the case. Media and fandoms have to actively work to include the Black voices they leave out, starting with listening.
Share your thoughts in the comment section below and be sure to subscribe to the site and follow us on Facebook, Twitter, Instagram, and Tumblr to keep up with all of our posts.
KultScene is a writer-driven website dedicated to creating a platform where diverse voices' takes on K-pop can be heard. If you like this post and would like to see more by helping support KultScene's writers fund, please email us for more details.
https://kultscene.com/wp-content/uploads/2020/06/silence-of-black-fans.jpg
1500
2100
Nnehkai Agbor
http://kultscene.com/wp-content/uploads/2018/02/KULTSCENE-LOGO-2018-TRANSPARENT-RED.png
Nnehkai Agbor
2020-06-30 08:28:33
2020-06-30 08:28:35
The erasure of Black K-pop fans in the wake of BLM & activism