Here's a question for you: Does popularity mean great? That depends.
I used to think that for a song to win numerous music shows and to top charts, it had to be a very good song, or at least of a better standard than the rest of its competitors. The more I am exposed to the kpop world however, the more I realise that I was under a misconception.
Ever since EXO came back on March 30th with its new album EXODUS and the title track, Call Me Baby, the particular hashtag #CallMeBabyXthWin (X representing the number of wins, i.e #CallMeBaby18thWin) has trended regularly on Twitter. For readers who are not familiar with this hashtag, it's commonly used by fans to celebrate the music show wins of their favourite groups, and it normally starts trending right after the results of the music shows are announced. Said music shows include SBS Inkigayo, Mnet Mcountdown, to name a few. These shows run throughout the week on different days, and are the main channels in which idol groups can promote their new singles and albums. As of May 5, 2015, EXO's Call Me Baby won 18 awards from six different weekly Korean music shows.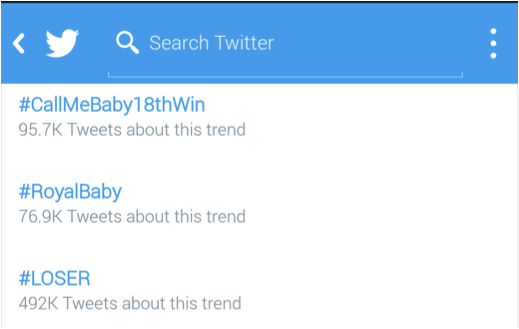 Screenshot of trends in Twitter (2/5/15)
These music shows are also competitions, with battles for the #1 song every week. When I was first introduced to the world of K-pop, these music shows caught my eye, mostly because of the cool and flashy performances by various artists or because of the artists posting pictures or tweets after winning to thank their fans. Either way, I used to think that these shows were a big deal, and that the songs that won on music shows were definitely good. But not anymore. I believe now, that music shows do not determine which songs are better than others but instead represent popularity.
---
---
Disclaimer: I don't intend any offense or harm to any of the artists mentioned. In fact, I'm a big fan of most of these artists and their music!
Before we dive deeper into this question of whether winning on Korean music shows is a way to determine the quality of a song, let us examine how the results of these music shows are even tabulated. For the purpose of this article, I will be using the examples of 2 particular music shows, Mnet's M Countdown and SBS'sInkigayo (The Music Trend.)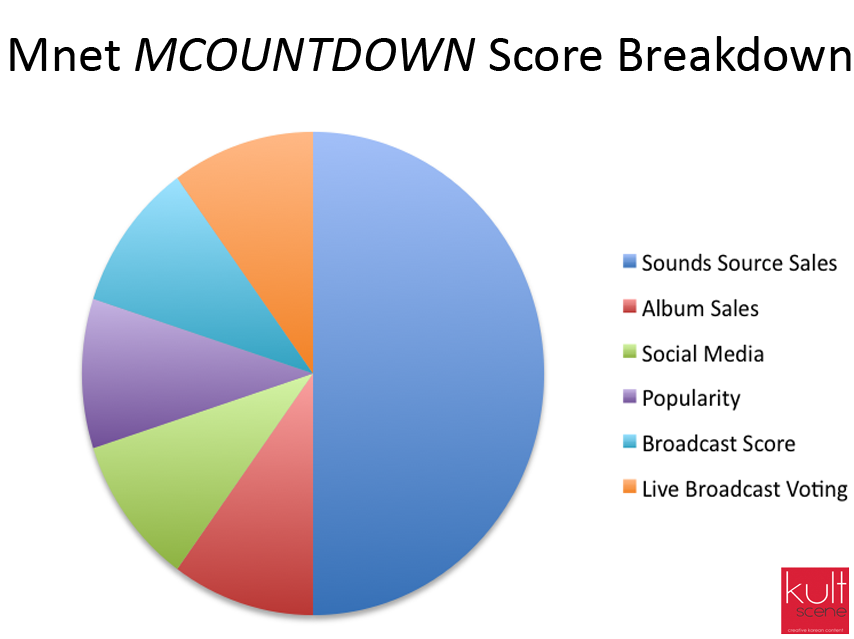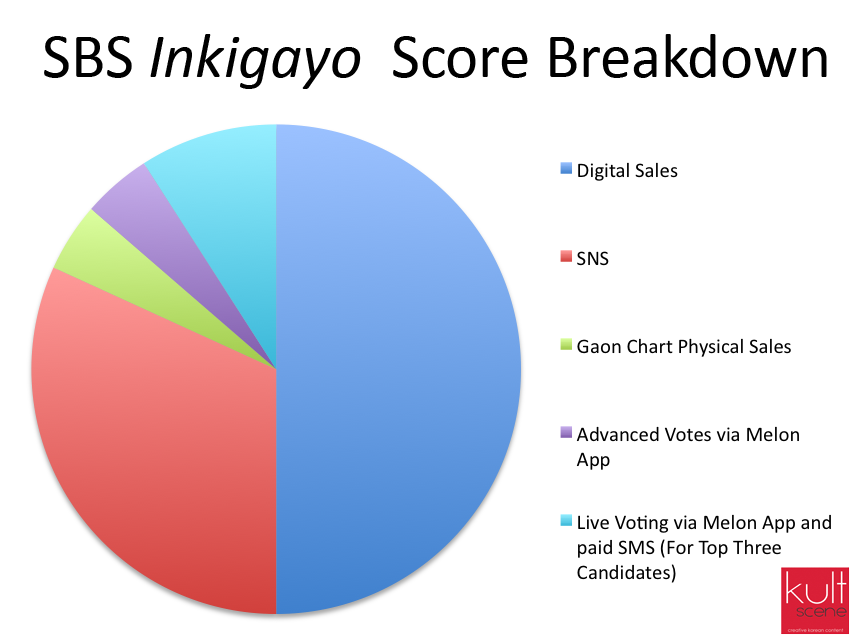 As seen above, anywhere between 30%-45% of these two music show scores are determined by active fan-voting, be it on social media sites or via live voting. The percentage weightage of Digital sales points as compared to those of physical album sales are also very high, ranging from 50%-60%, which is vital because digital sales opens the market to a larger and more global audience. Hence, it can be seen here that idols who have larger and more international fan bases definitely have an advantage over less well-known idols, and will therefore have a higher chance of winning these music shows.
Admittedly, it is not easy for idols to claim that trophy on music shows, let alone for several shows in a row, regardless of how many points a large fan base can acquire. Staying atop of the game for multiple weeks is something only a popular song could achieve.
This begs the question, what is a good song? A song that is catchy? Addictive? In my opinion, a good song would be one that showcases the individuality of the artist/group and still sounds coherent as a whole. It would be an added bonus if the artist/group was able to showcase a new side of themselves, or to show some growth and development in the music they release.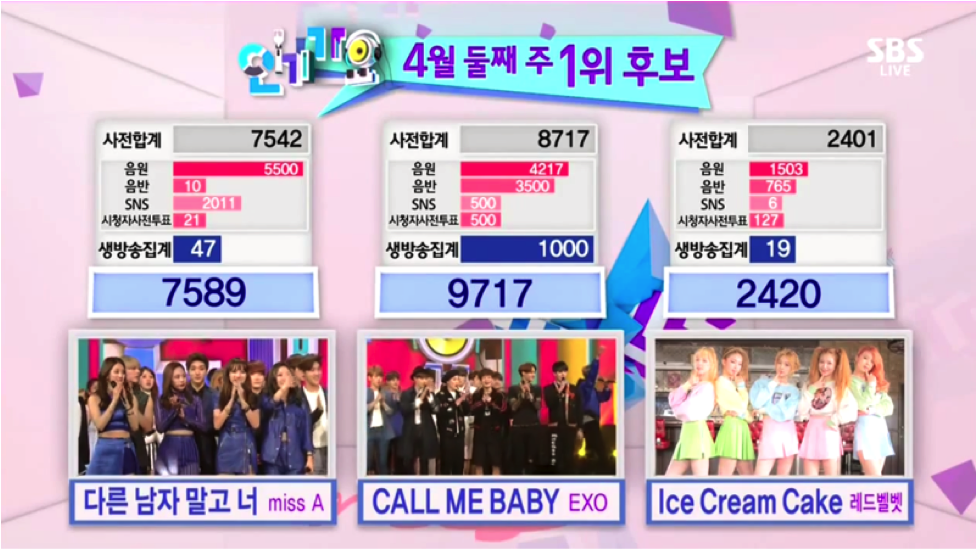 EXO's win against Miss A and Red Velvet on Inkigayo (12/4/15)
Bringing it back to the context of EXO's recent comeback, there were other songs released at the same time as Call Me Baby, but failed to receive any recognition from music shows. Notable examples would include Miss A's Only You, the title song from their newest album Colors, which was released on the same day as EXO's album, on the 30th of March. Miss A achieved a triple "all-kill" on Korean music charts with their song appearing in first on all Korean music charts, but still failed to win a single number one on music shows as the girl group was constantly in second place behind EXO. That wasn't because Miss A's song wasn't catchy, addictive, or original, or even popular. Rather, it was more likely because Miss A's fanbase, Say A is a significantly smaller one as compared with EXO's "EXO-L" fanbase. Although both groups are famous internationally and have members from both China and Korea, the popularity of EXO is astronomical and few other K-pop idol groups could compare, thus aiding my point that large fan bases are an integral part of music show wins and wins should not be a factor to determine the quality of a song.
---
---
Another example displaying this point would be the respective comebacks of Big Bang and BTS. Big Bang came back on the First of May with two tracks, Loser and Bae Bae. Both music videos reached one million views on Youtube within 8 hours of the same day. On the other hand, BTS (Bangtan Boys) also came back with their latest mini-album on the 29th of April, and the contrast between the groups is extremely clear. One, Big Bang, is one of South Korea's most popular musical acts and releasing its first music for the first time in three years. The other, BTS, is a popular K-pop idol group but had not previously released a song that won awards on Korean weekly music shows.
Screenshots taken from Youtube (2/5/15)
The difference in MV views can be attributed to a few factors, most significantly the size of their fanbases. Big Bang has an extremely huge and global fanbase, as can be seen by the fact that Big Bang's 2012 album, Alive, was the first k-Pop album to chart on the United States' Billboard 200 Album Chart. Big Bang is also established and respected as artists, both as a group and as solo artists. In comparison, while BTS also has a sizeable (and still increasing) fanbase, it is definitely smaller than that of Big Bang, and BTS is also not as well-known globally. Being a relatively new group as compared to the veteran Big Bang, these statistics are understandable, however does this mean that BTS's song is of a lower quality than that of Big Bang? MV views also contribute heavily toward music show rankings, so the same question can be posed. Do music show wins define the standard and quality of a song?
There are plenty of examples of this in the Kpop world, be it in the underrated but amazing releases from rookie/relatively unknown singers or the classic releases of singers who have, after a certain number of years, lost their popularity. All of them deserve recognition for their work, but there can only be one winner. Let us not allow these music shows to define the quality of a song for us, but let us formulate our own opinions and follow our hearts. After all, how good a song is is really dependent on everyone's personal preferences, so there shouldn't be a way to judge these songs, be it through music shows or through any other mediums.
What is your opinion about kpop music shows? What do you define as a good song? Share your thoughts in the comment section below and be sure to subscribe to the site and follow us on Facebook, Twitter, Instagram, and Tumblr to keep up with all of our posts.
https://kultscene.com/wp-content/uploads/2015/05/EXO-Call-Me-Baby-win1.jpg
640
852
Anna Cheang
http://kultscene.com/wp-content/uploads/2018/02/KULTSCENE-LOGO-2018-TRANSPARENT-RED.png
Anna Cheang
2015-05-07 14:14:31
2015-05-15 18:53:06
#CallMeBabyXWin: Korean Music Shows & the Songs That Win Awards