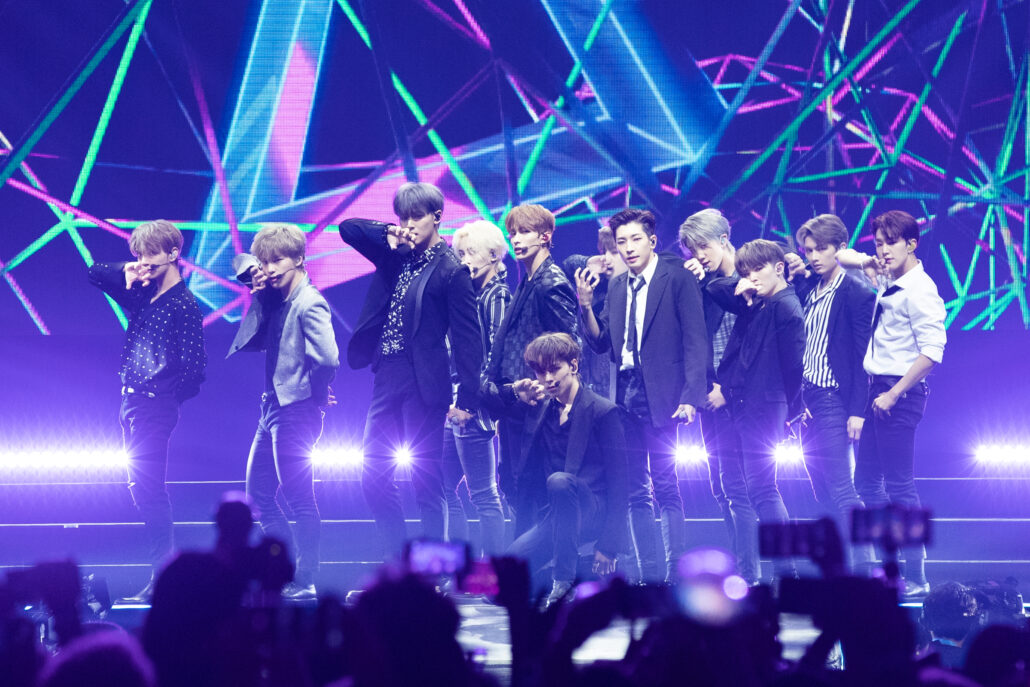 Day 2 of any KCON is almost always even more exciting than the first. You've just had a full convention and some concerts but the prospect of more makes it even better. The Sunday show took a different approach to its sets than Saturday. Instead of a noticeable flow between the groups, they went for independent greatness. Each group stood on their own and showed in less time than the previous night, who they truly are.
Like the Saturday, day 2 opened with its two smaller boy groups dancing to American pop tracks. AB6IX began by performing to Charlie Puth's "Attention" and Verivery followed with "24K Magic" by Bruno Mars. It was Verivery who took the win here easily, AB6IX were admittedly slick but uninventive. Verivery brought great gestures to the stage but best of all they made good use of each other as props. At the beginning, the group slowly moves together to form a car right as Bruno sings "magic in the aiiirrrr." The kicker was that they even had one member wraps his arms around the member who was in the driving seat to mimic a seatbelt. Later on two members then duck down to become a turntable and even stick their fingers up to be used as knobs by the would be DJ.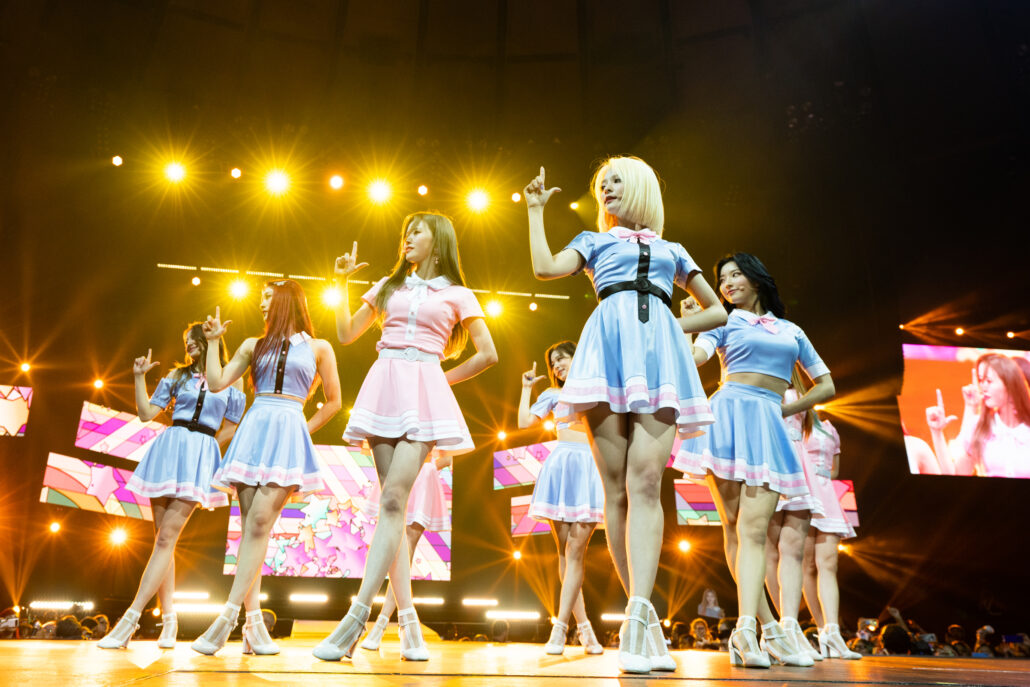 ---
---
It was the turn of the girls this time to take the first set. In what was an interesting but good call, Mnet's very own Fromis_9 opened with recent disco b-side "Love Rumpumpum." It's a great indicator of the kind of the group they are, loads of fun but so technically proficient and precise at the same time. This translated into what was the tightest set of the whole weekend. Latest single "Fun" came next and really got the crowd going. They were step perfect in their routines, popping off the stage with bright colours and beaming faces. Sadly they had to condense "DKDK" in half due to time constraints but the despair lasted about a millisecond as the blistering "Love Bomb" followed directly after. They gave no time to relax, no time to ponder the short set. The speed and accuracy at which they did things meant there were no regrets with potential songs they didn't perform.
Seventeen's American duo, Vernon and Josh, popped up next to tell a story about journeys to space. Their song "Rocket" is a cute little track that favours being here, between sets, thanks to its easy rhythms. Vernon in particular, looked like he was having a fun and nicely relaxed time. The performance unit joined them halfway through as backup dancers, before continuing the space theme with "Moonwalk." Again it's not their most impressive work but that wasn't called for yet. It's still great to see such professionals coast through a difficult if not quite intense choreography.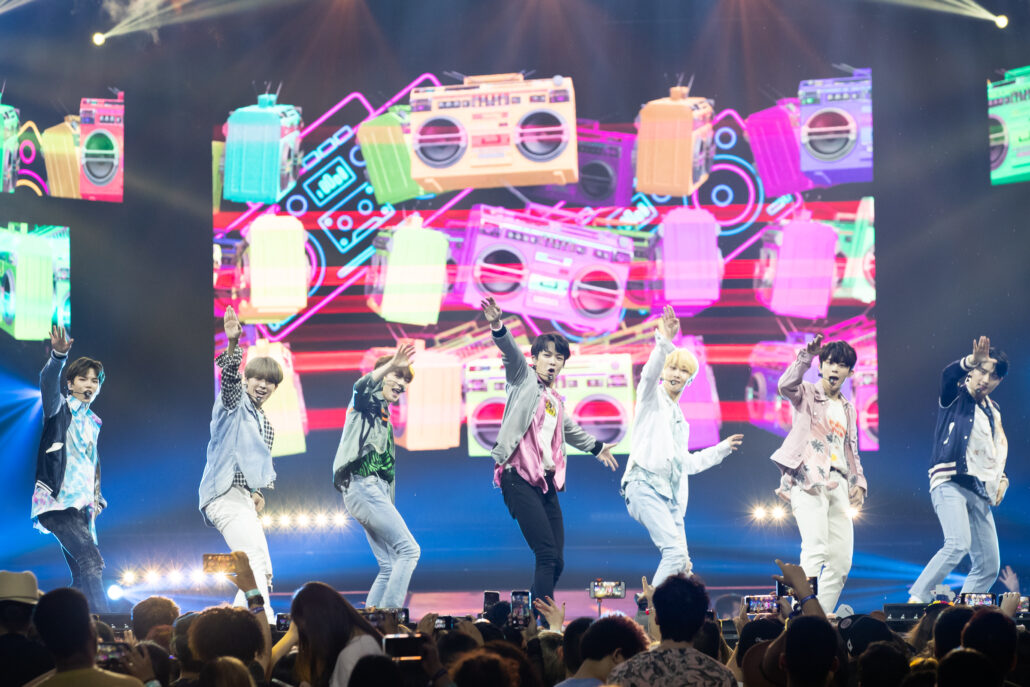 Verivery couldn't quite match the inventiveness of their opening dance performance but they do have the tunes to at least bring some grooves. Finding an identity in New Jack Swing, Verivery's songs all have big beats, big chords, and big choruses. "From Now" in particular has a chorus so good and memorable that you'd be singing along by the end of song regardless of having heard it before or not. Sadly it was a case of diminishing returns from then on. "Ring Ring Ring" and "Alright" trot out similar ideas with lesser execution. "Ring Ring Ring," again has a catchy hook but it pales next to "From Now." They're not quite ready for a platform like this but no doubt they'll get there.
Another group potentially not in a place to be on this stage are AB6IX. They are technically the newest group of the weekend but have plenty of experience with former Wanna One members Daehwi and Woojin. They were, however, without the injured Woojin for all of the dances.. K-pop groups are usually masters at concealing the fact that a member is missing, Seventeen would even do it later in the night. AB6IX however, made the major mistake of having Woojin sit on a chair to do his raps. Having him sit at the edge while the four others danced in the middle of the stage made the stage feel unnecessarily huge. The space between them was always palpable.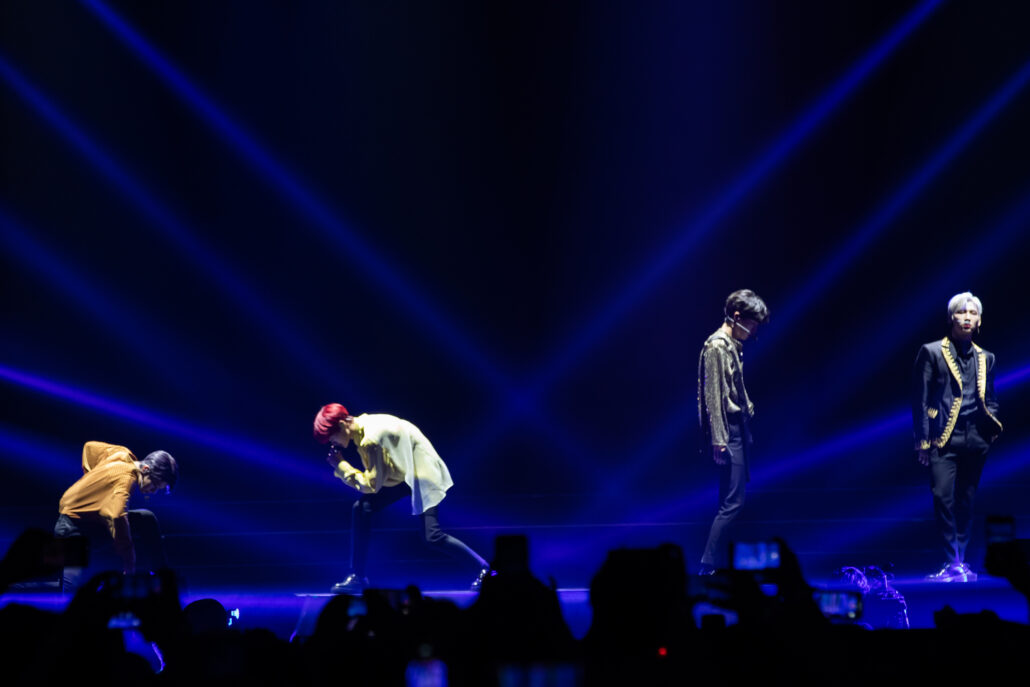 This was doubly sad given the choreography of their stunning debut "Breathe" is reliant on member interactions. For that song they still just about made it work but their other two, "Shining Stars" and "Hollywood" proved to be misses. Those tracks are not good enough to stand alone and are made even worse with the lack of a member. There were good points though, Daehwi is a phenomenal performer for the absolute grace in his movements. Many K-pop dances can make their routines look easy, very few can make it look like their swimming through the air like Daehwi does. Lead vocalist, Woong, also had the best belts of the weekend.
Fromis_9 returned with the rather boring "covering the big K-pop songs of the day" section. They ably covered Red Velvet's "Red Flavour." It's a good match given the direction Fromis_9 are going in with "Love Bomb" and "Fun." These covers are always bland though and they do never do much to change things up. SF9 introduced themselves next before their set with EXO's "Love Shot." This was slightly more interesting due to their dayglo suits that seemed to be missing whole pieces of clothing. A sexy sign of things to come from them.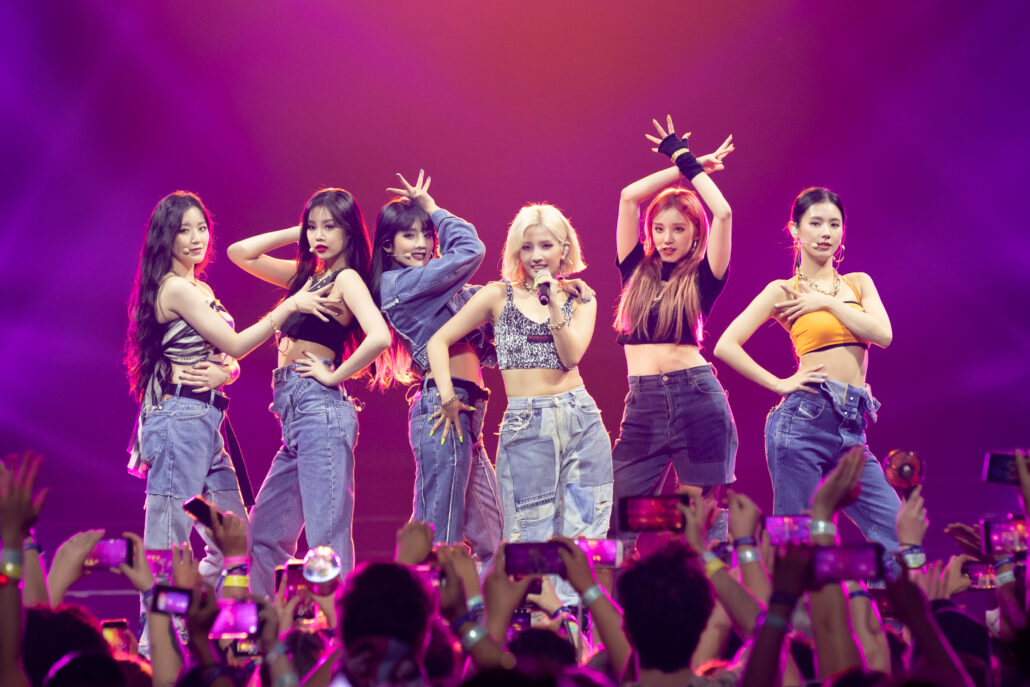 ---
---
The final girl group of the weekend were up next and thanks to their star member showed something we hadn't seen until then. (G)I-DLE's most recent single "Uh Oh" was first and immediately Jeon Soyeon was standing out. Her voice was heard loud above the music, a rare thing over the weekend. She relished every moment on the mic, not being able to stop her smile every time the crowd roared for her. She played off of them, directing herself around the venue as well as at the camera. Soyeon was not afraid to detach herself from the focused expressions and pure commitment to choreography. They went on to blast through all of their singles, a shortened version of "Hann," "Latata," and finishing on "Senorita." Soyeon would grow further into her role as the rest performed their functions. Soojin's sleek, sensual dance was the only thing to come close to matching Soyeon.
SF9 proved to be the most sensual group of the weekend with their set. They left behind the primary colour suits and replaced with them clothes not so far from bondage. Right from the distorted guitars in their intro number, everything was geared towards a tough, masculine sexuality. No better is this demonstrated than in the heavy percussion and bass of "RPM." This brought up the pace and kept it high even for "O Sole Mio." It's a song that would actually favour a slightly calmer presence but SF9 wanted it intense and they brought it. This was all set up for the banger of their lives, "Now or Never." Led in the chorus by the infallibly cool Hwiyoung, SF9 delivered the deep electro with a perfectly effortless intensity. Pulling it off so well also meant they could end the night the decidedly more laid back "Play Hard."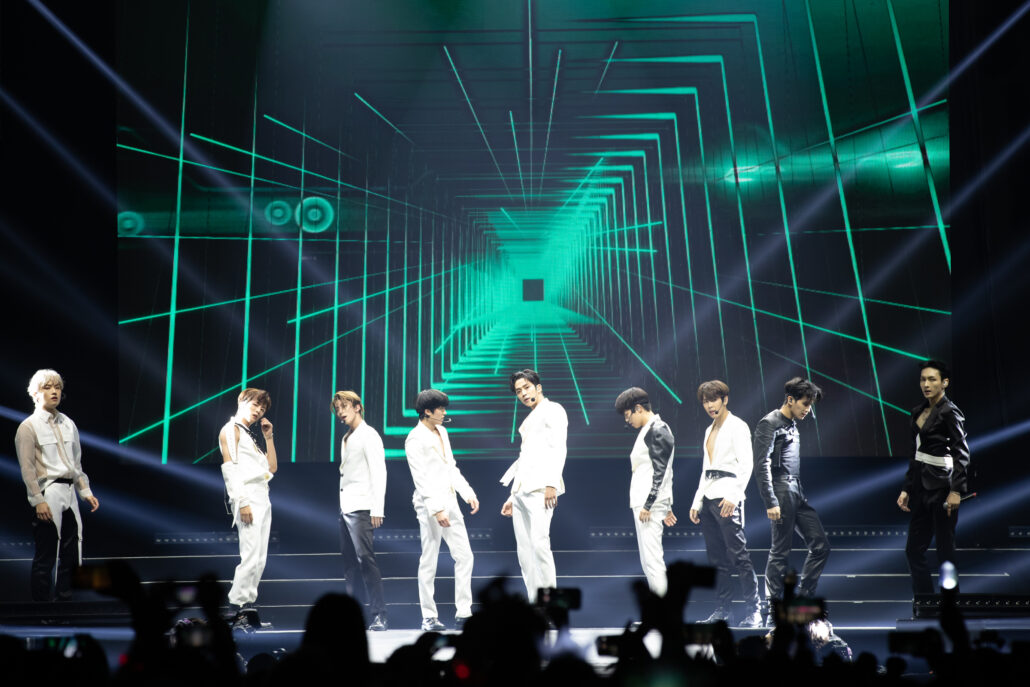 Before the long anticipated headliners arrived, (G)I-DLE were back on stage for the KCON classic Broadway musical cover. Befitting the girl crush image of them, (G)I-DLE chose "All That Jazz" from Chicago. Obviously "Cell Block Tango" would have been a much better choice but there's also obvious reasons as to why they didn't perform that one. As it was "All That Jazz" was a solid, mostly low energy number. It didn't do much to show off the members, it would have if they were singing live but alas.
It was time for Seventeen. There's little to add when it comes to these 13 boys. In a debate over the great K-pop live performers they would certainly be near the top. With only five songs, they can transform a night from a collective of K-pop groups to a full blown Seventeen show. The level of fun and individuality they bring to every performance is unprecedented. The effort and energy that goes into more recent songs like set opener "Getting Closer," is no different from them revisiting their debut, "Adore U." Seventeen have the same zeal for being on stage now as they did back then, maybe even more so. No one exemplifies this better than Hoshi. No single member of any group is better at leading a performance on stage, balancing his time between the camera, fans, and his fellow members. He takes charge alongside actual leader S.Coups and creates an atmosphere where everyone thrives. It was their closer "Very Nice" that finally brought the house down. They had everyone jumping and even sprinted back on stage after it was over for one more round.
Day 2 seemed to take day 1's level of balance as a challenge. The groups on this night said we're going to do the complete opposite. That's not to say it was uneven or messy, but that each group attempted to stand on their own, not letting a potential flow between them stop them from doing what they want. It was a night of individual brilliance. The unbearable cuteness of Jang Gyuri, the lithe, feline movements of Lee Daehwi, the sharp, truncated rhythms of Jeon Soyeon, and blatant sexual energy of Hwiyoung. These moments and people would all be remembered, shining above those around them. With headliners Seventeen, they are a group so attuned to this style of performance that it's impossible to separate them. They are all brilliant as individuals but geniuses when brought together.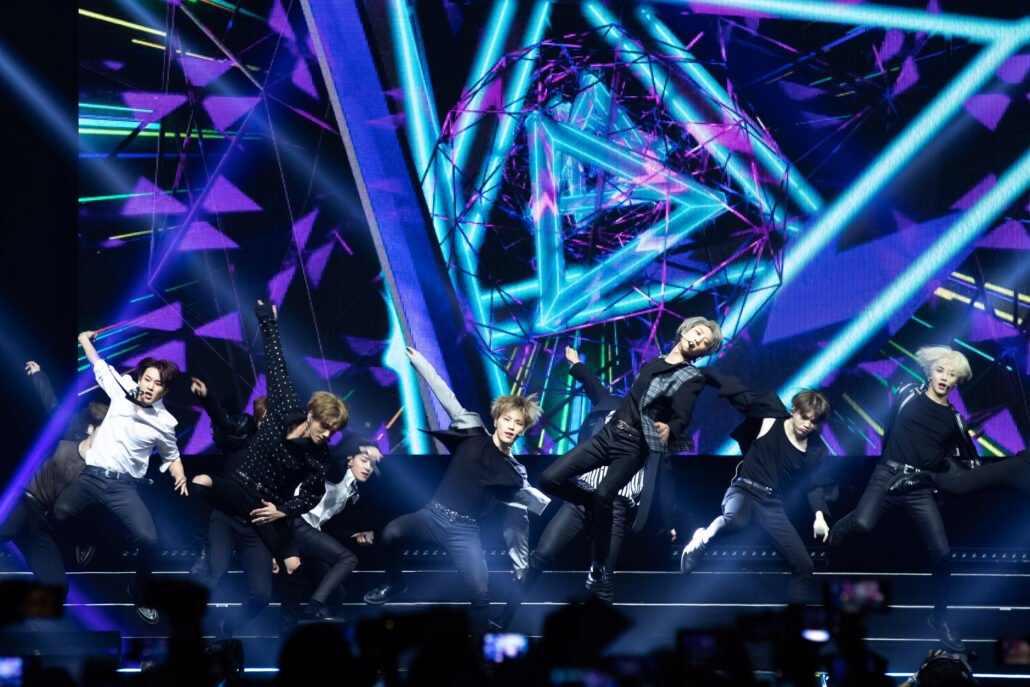 All photo credits to KCON USA
Were you at KCON NY 2019? What did you think of day 2? Share your thoughts in the comment section below and be sure to subscribe to the site and follow us on Facebook, Twitter, Instagram, and Tumblr to keep up with all of our posts.
https://kultscene.com/wp-content/uploads/2019/07/MCD_KCONNY2D_104.jpg
1600
2400
Joe Palmer
http://kultscene.com/wp-content/uploads/2018/02/KULTSCENE-LOGO-2018-TRANSPARENT-RED.png
Joe Palmer
2019-07-22 15:24:19
2019-09-04 21:01:11
KCON NY 2019 'M! Countdown' day 2 recap