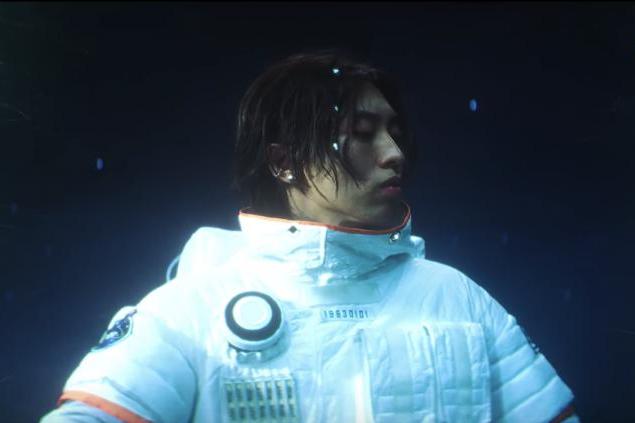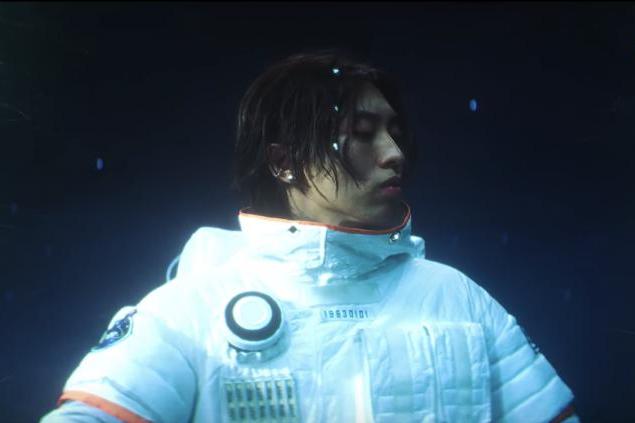 DPR Live made his anticipated return with Is Anybody Out There? on Mar. 3. The album comes after Dream Perfect Regime's collaboration with Adidas and the release of fellow collective member and in-house producer DPR Cream's solo debut. Is Anybody Out There? is a cosmic journey of hypnotic adlibs, genre-bending melodies and robust trap beats. The album recalls Live's comeback through galactic metaphors. The rapper released the first single off his album with a goosebump-inducing music video that sees Live preparing for an inevitable impact aboard a spaceship. The music video is filled with cinematic moments of terror and helplessness as viewers are entranced by the visuals and Live's flawless rhymes.
DPR Live embarks on new territory in his return to music. Having solidified himself as a force in Korea's growing rap scene, Live plays by his own rules. Is Anybody Out There? offers a grittier yet accessible version that was not previously seen.
The Songs
The album begins with the gloomy "Here Goes Nothing." The song builds with each verse signifying a person gathering the courage to take a leap of faith. The track chronicles Live's plunge to pursue his happiness after reaching a dark moment in life. He expresses his hate for his victim mentality and how he's a danger to himself. He ponders if someone will be there at the end to catch him. "Here Goes Nothing" shows Live at the edge of sanity and ready to jump. He is hoping someone will be there at the bottom to catch him. The song builds tension as he says "Geronimo" over heart-pounding drums and mellow backing vocals that crescendo into a repetition, leading into the next track with the same name.
"Geronimo!" is a nosedive into an abyss that signifies Live's spiral with his mental health. The rapper loses his grip on reality as a result of painting variations of himself. There is a version of himself that others hold as the real him despite not knowing who he is. The only way to rid himself of the preconceived notions of himself is to jump. Live also battles with finding himself again. In taking his jump, he relieves himself of the pressures that plague him. "Geronimo!" samples and reworks aspects of "Martini Blue" for a subtle eeriness against its electronic beat before dropping into a mind-numbing electro-hop break. The intensity remains as the track sounds off with the rapper's signature "Coming to you Live" a turbulent crash.
---
---
The next track takes a step back from the previous chaos as it opens with soft calls for Live to wake up. Perhaps the rapper's most intimate track to date, "To Whoever" highlights Live's life from his childhood in Guam to his first world tour in 2017. The rapper opens up about racism, his move to Korea, and his dad's cancer diagnosis. Live narrates over various interludes inspired by Australian rock and classical music. "To Whoever" is a reflection on the build-up to Live's spiral. It's a sudden influx of memories. The song also signifies his last message before he crashes.
"Out of Control" is Live's fight to re-establish normalcy. Throughout the song, he is on a high as he raps about his sold-out "Coming To You Live Tour." He is experiencing all great moments before he hits his ceiling. During his album listening session on Instagram live with Christian Yu, Live recalled battling depression while touring. On stage, he's present and enjoying the moment. "Out of Control" boasts a refined, soft electro beat that contrasts the seriousness of Live's lyrics. It's also a testament to how losing control can be as subtle as it is chaotic.
"Disconnect" is a groovy electro track with an extraterrestrial infliction. The song is foreshadowed by "Out of Control"'s ending which Live declares being over the drama. He moves into a mindset as he tries to pull himself out of the funk he's in. Live is ready to leave the chaos of earth behind. He's reached his capacity when it comes to the hoopla surrounding him. It's not a retreat, but a removal. Even though removing oneself from a situation that does not benefit one's mental health is difficult, it is a necessity.
"S.O.S" seems like it would be Live's ultimate cry for help. However, he is okay with being lost as he faces his situation; he wants to go beyond where he is. Live seems to be on another planet that's full of fun and stress-free. One of the more intriguing aspects of the song is the warped guitar sound that accompanies the uptempo, keeping the album's otherworldly theme alive. "S.O.S" uses Morse Code within its beat to signal Live's distress. To play into the meaning of "S.O.S," Live sings a soft "sailing over you" to end the song providing a seamless transition into the next three tracks.
"Oh Girl" takes the album in a new direction with its airy vocals and dreamy, electronic funk beat. Backed with uncanny synths, the track depicts Live in a state of excitement and curiosity over a girl who has his attention. She keeps him guessing just as much as the song has listeners anticipating its drops.
"Kiss Me" slows down the album with its whimsical lo-fi beat as Live puts bass in his voice for his most risqé lyrics yet. The rapper offers a sleek, stripped-down version of himself as his lyrics center around a lover in a universe that is just them. In what could be called a sex anthem, Live showcases a dominant side much different from the easy-going persona fans have seen until now. While a woman has every right to wear makeup as she sees fit, the rapper recognizes that sometimes it can feel like an obligation. Thus making it his mission to love every part of her. "Kiss Me" is the journey to love and the precursor to euphoria.
Described as the title track, according to DPR Live and Christian Yu's Instagram live, "Neon" is an explosive hip-hop track chronicling love's bliss. Live delivers a familiar flow that is reminiscent of "Laputa." The track is flirty and signals the upswing of Live's state of mind when it comes to the album's themes. Love is a powerful entity that transcends our imagination. Much like space, it is vast and boundless. "Neon" is a reminder that while Live is continuously evolving his flows and techniques, he can still go back to his origins.
---
---
The lead single from the album is an atmospheric experience over trap beats and slick ad-libs. Its meaty bass and warped synths accompany Live's sharp vernacular. "Legacy" is Live at his best as he flexes his success. He's overcome his depression and has entered a new state of mind. He's confident as he brags about his accomplishments, money, and women. Live indicates he's on his spaceship, insinuating he is on a different level than his peers and haters —he's not even in the same atmosphere as his haters. "Legacy" resurrects Live's bravado that was key in earlier tracks like "Eung Freestyle," "Til I Die" and "To Myself." His legacy is the only thing he cares about as he takes pride in his craft. Live is untouchable.
"No Rescue Needed" rounds out the album with its hypnotizing grooves and synths and earworm "I don't care how I got here." The track is a feel-good conclusion to the turbulence of 'Is Anyone Out There.' Having crash-landed on another planet, Live does not need rescuing. He's secure in his journey and the rollercoaster that came with it. Filled with adlibs and instrumentals, Live's rapping takes a backseat in this closer. He's said his piece.
Final Thoughts
From start to finish, Is Anybody Out There? is an album that takes a couple listens to understand. The many genres within the album can be overwhelming when it comes to finding solitude in sounds. Still, Live puts his best foot forward displaying a part of himself fans have yet to see. He meshes his online messages into this album. The album is sonic cohesion that experiments with elements that usually would not fit together. It channels experimentalism that has been missing from hip-hop since the early 2000's.
Fans get a real look at who DPR Live is beyond his "forget the haters" attitude. It is a level of authenticity Korean rappers have yet to show as a collective. Live captures hip-hop's roots in sharing his truth. There's nothing wrong with a good hype track, but there seems to be a lack of awareness in Korea's rap scene. Is Anybody Out There? imagines mental health as a journey through space. "Here Goes Nothing" and "Geronimo" represent being at the edge of a breakdown, wondering if anyone will be there to catch you while "To Whoever" and "Out of Control" showcase the triggers that lead to someone reaching their point of no return. "Disconnect" and "S.O.S" represent when a person removes themselves from others once they reach that point of no return and a call for help. It's hitting rock bottom and pondering if anyone cares. The trio of "Oh Girl," "Kiss Me," and "Neon" are welcomed distractions from the struggle of coping with mental health. However, a distraction blossoms into something that reminds listeners even at their worst they are still capable of being loved and loving someone. Finally, "Legacy" and "No Rescue Needed" are the light at the end of the tunnel. They show there is beauty at the end of every journey. For Live, he found himself on an uninhabited planet full of possibilities. He gets to shape his future.
DPR Live's 'Is Anybody Out There?'
What's your favorite song on the album? Let us know your picks and thoughts in the comment section below and be sure to subscribe to the site and follow us on Facebook, Twitter, Instagram, and Tumblr to keep up with all of our posts.
https://kultscene.com/wp-content/uploads/2020/03/DPR-Live-Legacy-screen-grab.jpg
423
635
Nnehkai Agbor
http://kultscene.com/wp-content/uploads/2018/02/KULTSCENE-LOGO-2018-TRANSPARENT-RED.png
Nnehkai Agbor
2020-03-07 13:54:54
2020-04-11 18:51:37
DPR Live's 'Is Anybody Out There?' album review