After months and months of hearing about Neogen's Bio-Peel Gauze Peeling Wine, it was only a matter of time before I tried out the cleansing pads myself. Aside from being a fan of just about anything wine, the idea of a dual exfoliant pad intrigued me so knew that I had to get my hand on the Neogen product as fast as I could. As someone who gets semi-regular facials, anything in between that will help maintain the luster sounds worthwhile to me. To be honest, when the package arrived from Style Korean with my Neogen product, I stared at it for a while wondering, "will this live up to the hype?"
With its ability to scrub away dead skin and, supposedly, clean and tighten up pores through its combination of resveratrol and the pads's dual textures– one side features an exfoliating gauze and the other has a soft cotton pad– this is the holy grail of quick fix skincare. Resveratrol, which is found in grapes and therefore wine, is naturally fermented and allegedly helps repair damaged skin and prevents signs of aging. Oh, and did I mention lactic acid and glycolic acid also help as chemical exfoliants?
Essentially, the Gauze Peeling Wine pads were touted as heaven's gift to K-beauty.
---
---
Pros of Neogen Bio-Peel Gauze Peeling Wine
Definitely a step up from the cleansing pads I used in high school, which was the last time I attempted to use one of these one-stop exfoliating pads. The dual-sided cushion made the experience doubly fun, since it made the simple swiping a two-step process and made it feel like I was scouring then refreshing my skin. There was also significant visible dirt and and dead skin on the pad, which made it feel like the pad was doing a great job cleansing my skin. After rinsing off the excess moisture, my skin felt immediately softer.
Cons of Neogen Bio-Peel Gauze Peeling Wine
Call it whatever you want, this isn't a Gauze Peeling Wine but, rather, Gauze Peeling Grape Juice. That doesn't mean it particularly smells bad, but the initial smell upon opening the lid of the container is sweet, much like wine's shameful younger sibling drink. Also, just a warning, don't get too invested in the scrubbing step because the pad is small but it is strong and will rub your skin raw.
Just a note, if you order from Style Korean, the products come directly from Korea so some items, including this one, do not have English directions. I didn't realize that I had to wash off the excess moisture, and was extremely uncomfortable while writing the review with a sticky face and neck before I rectified my mistake.
---
---
Overall Thoughts on Neogen Bio-Peel Gauze Peeling Wine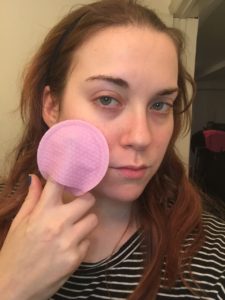 I love the fact that this is a quick, simple pad that exfoliates both mechanically through the pad and chemically through its ingredients. After one use, my skin feels supple and tingly, which is my sign that surely something is happening. Did it live up to the hype? Well, I definitely felt the effect of the product and didn't notice any irritation. Neogen's Bio-Peel Gauze Peeling Wine has definitely made me reconsider why I haven't been using cleansing and exfoliating pads all along.
Did you try the Bio-Peel Gauze Peeling Wine? What did you think about it? Share your thoughts in the comment section below and be sure to subscribe to the site and follow us on Facebook, Twitter, Instagram, and Tumblr to keep up with all of our posts.
The sample item was provided by Style Korean, but all reviews are based on the tester's individual opinions. Email [email protected] for more details relating to sponsoring products and posts.
https://kultscene.com/wp-content/uploads/2017/01/Untitled-design-5.jpg
768
1024
Tamar Herman
http://kultscene.com/wp-content/uploads/2018/02/KULTSCENE-LOGO-2018-TRANSPARENT-RED.png
Tamar Herman
2017-01-04 05:31:59
2017-01-16 18:54:38
K-Beauty Review: Neogen Bio-Peel Gauze Peeling Wine