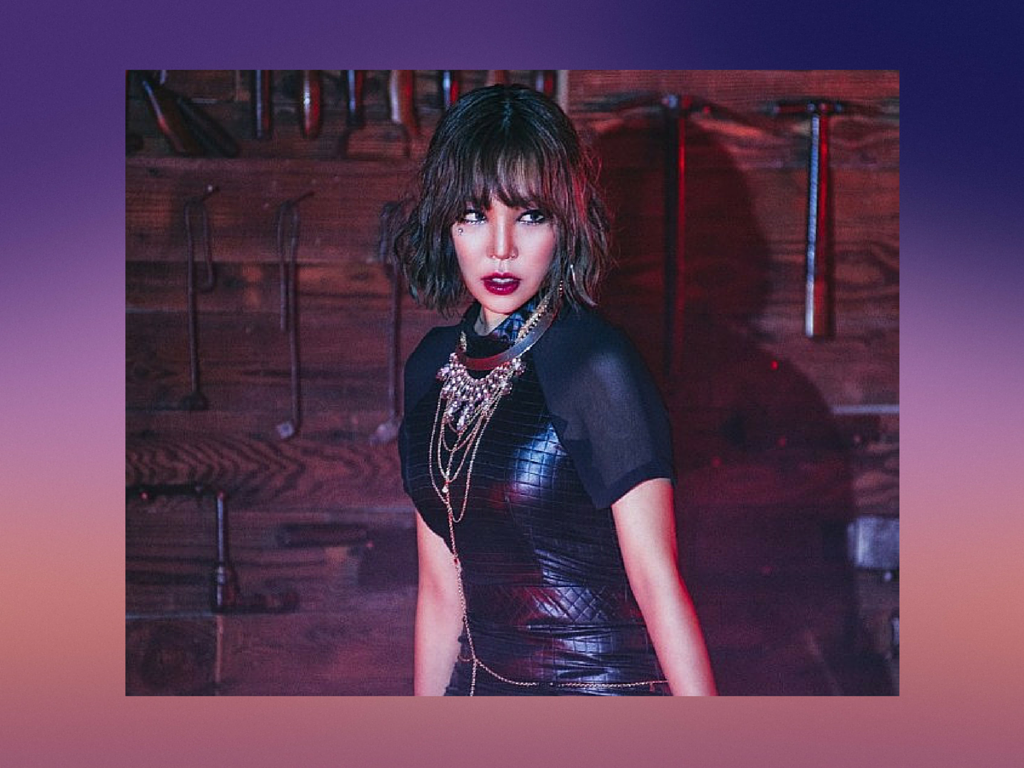 Like most fans abroad, the first time we heard about South Korean rapper KittiB was when she appeared on the second season of "Unpretty Rapstar." If you watched the show, you're aware it was met with criticism that both the contestants and the format of the show was subpar to its first installment. KittiB was one of the few rappers who was an actual underground rapper, with most contestants being either from idol groups or rookies. Alas, her journey was rocky and it took her literally the entire show to win a feature on the song; the last before the finals. To her credit though, "On the Edge" produced by YDG is probably one of the best, if not the best, song from the season.
However, after "On the Edge" and making it onto the semifinals, something sparked in KittiB's head, for she woke up from her season-long slumber and began to slay. Her verses on the collaborative songs with the rest of the contestants were also fire. And let's not forget about the masterpiece that is "Ronda Rousey Flow." A trap anthem about shutting down bitches who try to put her down but don't measure up (*cough*, Yubin, *cough*). Unfortunately, she didn't win the show. She did, however, win the title of "baddest bitch," because just like Yezi, they were the only two contestants who proved they're the real deal and can back up their claims of greatness.
---
---
Fast forward a few months, KittiB, who formerly released her music independently, is now signed to Brand New Music — home to rappers San E and Verbal Jint and singer Bumkey. She recently dropped her latest single, the first signed to the label, "Doin' Good" and it's a continuation of what we already know: KittiB slays. The track follows the trap trend, but doesn't go into full-on stereotype. Verbal Jint, who's featured, and KittiB mellow it down and keep the instrumentals simple to highlight the song's message. The lyrics tell her story about being in an abusive relationship compellingly, declaring that even though she was broken down by the former lover, she's now doing good. Unlike Yezi's "Crazy Dog" which was ruined by San E's participation, Verbal Jint complements KittiB's flow and overall concept; he's the yin to her yang.
---
---
It takes a certain level of guts and confidence to put out songs like "Ronda Rousey Flow" — which owns all the bad comments directed at her, especially being fat shamed, and discredits them because her talent speaks louder than that — and "Doin' Good" — which speaks candidly about a topic a lot of people feel ashamed of speaking out about. Not only is she hot (fuck the fat shamers, she's actually just curvy), but her lyrics are never empty, yolo-swag, #turnup jams.
Her two last songs on "Unpretty Rapstar 2" plus her newest single earned her spot in Korean rap table with other great rappers of all genders. Let's hope she now gets the attention and kudos she deserves. Other female rappers should watch their crowns for KittiB is well on her way to snatch it.
What do you think of KittiB's latest song? Share your thoughts in the comment section below and be sure to subscribe to the site and follow us on Facebook, Twitter, Instagram, and Tumblr to keep up with all of our posts.
https://kultscene.com/wp-content/uploads/2016/03/Untitled-design-2-1.png
768
1024
Alexis Hodoyan-Gastelum
http://kultscene.com/wp-content/uploads/2018/02/KULTSCENE-LOGO-2018-TRANSPARENT-RED.png
Alexis Hodoyan-Gastelum
2016-03-26 08:00:10
2016-03-25 20:59:50
Girl Crush: KittiB