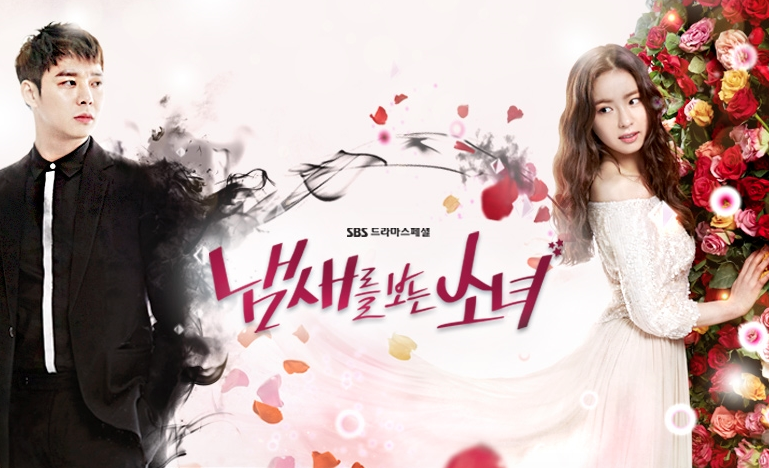 Some Korean dramas are set up to be successes. This year's Kill Me, Heal Me was one such drama that started well and ended well, complete with great actors and great plots. Some dramas, however, surprise everyone and end up smash successes despite seemingly weak plots and unknown actors. Other Korean dramas look like they'll be huge hits due to the cast and crew behind scenes, and then sadly fail. The Girl Who Sees Smells is somewhere in between all of this, which means that it has room to grow and shine. The new SBS drama, also known as Sensory Couple, isn't just like every other drama, and that means there's a lot going for it.
[Disclaimer: This article contains a few spoilers]
It Has Everything That a Good Drama Needs
With dark comedy, supernatural abilities, a great soundtrack, and a murder plot to keep us from focusing for too long on how ridiculous the whole thing sh/bould be, The Girl Who Sees Smells is reminiscent of award winning 2013 drama, I Can Hear Your Voice. The Girl Who Sees Smells takes itself seriously when it needs to, like when focusing on murder cases, and gives the audience steady breaks from the darkness by making the lead female character a comedian who is trying to get her first break in the industry.
Plus, it's based on a webcomic that is widely popular, so the plot's already set and has an audience.
Shin Se Kyung is Believable As The Girl Who Sees Smells
As the title character Oh Cho Rim, Shin Se Kyung pulls off acting as a woman who wakes up from a coma with the ability to see smells. After a reasonable freak out in the first episode, Shin's character steps into the role perfectly, acting like a human hound as she hunts trails of scent.
---
---
She's goofy and innocent, but Shin's acting during small moments when Oh Cho Rim is flustered or disturbed by something reminds the audience constantly that she is more than just a hunting tool, but in fact the hunted.
Park Yoochun Is Her Perfect Foil
If Oh Cho Rim has too many senses, Choi Moo Gak has too few, and JYJ's Park Yoochun thrives on not letting his character show pain due to medical condition. Even after guzzling coffee or being kicked by a superior, Choi/Park doesn't flinch and acts as the opposite of Shin. Choi is motivated by one thing, to become a homicide detective and avenge his sister's death, while Oh wants to just succeed in the here and now.
There's a lot of bickering early on, and their romantic chemistry isn't the best by the end of the second episode, but the two characters learn to trust each other and as they do, so does the audience. Rather than building a perfect romantic relationship, The Girl Who Sees Smells builds the camaraderie first and it's perfect for a drama of this type.
The Opening Five Minutes
A screencap of my reaction (that Alexis had to read) as I watched the opening of The Girl Who Sees Smells: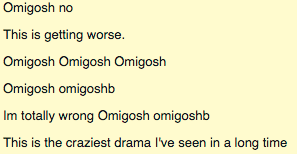 With three murders in the first five minutes, two families broken, a murderer revealed, a case of mistaken identity, amnesia, and supernatural abilities, The Girl Who Sees Smells could be extremely makjang (over the top dramatic, pushing realism for the sake of drama.) But this is SBS. SBS publicly announced in 2014 that it would tone down makjang after coming under fire for making dramas too unbelievable. The Girl Who Sees Smells isn't supposed to be believable; people don't see smells. But the show is compelling, gives the characters drama within the realm of that unbelievable world, where actions have reactions and Park and Shin's character's responses to things, despite ridiculous situations, seems rational and utterly realistic. Wouldn't you scream if you woke up in a hospital and the world was glittering?
---
---
Pretty Yet Simple CG
Speaking of, the sparkles that depict the scents that Oh Cho Rim sees are gorgeous. The colors and shapes are pretty, and if most people were asked to describe scents in color and physical terminology, this definitely beats gaseous wafts.
But Can This Drama Really Pull It Off?
The Girl Who Sees Smells is, despite the humor and magic, all about a series of murders and a pair of people who are inadvertently linked to them. Right now, it is filled with questions. Why does the murderer do what he does, what caused Choi and Oh's afflictions, why, why, why? But if the questions are answered soon, The Girl Who Sees Smells may feel stale old. But with a team of directors and writers who worked on popular dramas like Tazza (no, not that one starring T.O.P) and Rooftop Prince on board, that seems unlikely. So expect some plot twists, and join us on a bumpy ride as we watch.
What Korean drama do you think will be the surprise of 2015? Share your thoughts in the comment section below and be sure to subscribe to the site and follow us on Facebook, Twitter, Instagram, and Tumblr to keep up with all of our posts.
https://kultscene.com/wp-content/uploads/2015/04/Screen-Shot-2015-04-07-at-7.35.23-PM.png
468
769
Tamar Herman
http://kultscene.com/wp-content/uploads/2018/02/KULTSCENE-LOGO-2018-TRANSPARENT-RED.png
Tamar Herman
2015-04-07 16:47:32
2015-04-07 16:54:40
5 Reasons 'The Girl Who Sees Smells' May Be This Year's Surprise Drama