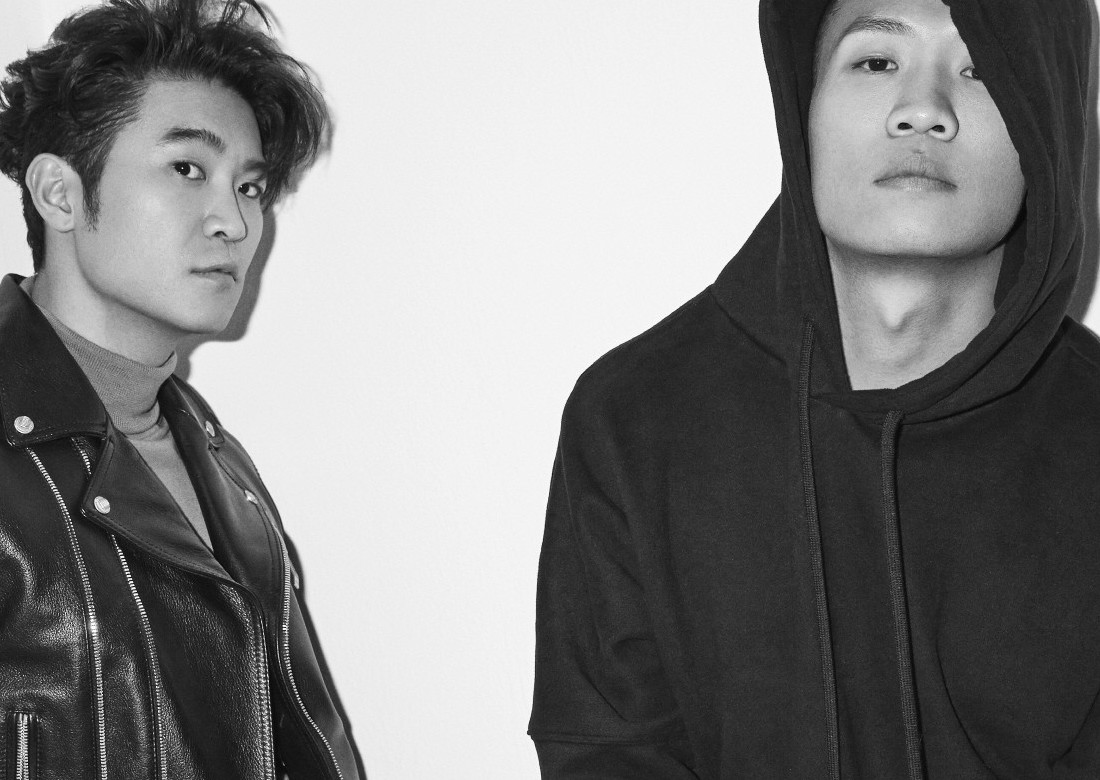 If you're ready for something Dynamic, this Duo is what you've been waiting for. Puns aside, the iconic Korean hip hop act Dynamic Duo is making its way stateside this March. Beginning with a show in New York City on March 11, Choiza and Gaeko are heading to Chicago on March 13, Atlanta on March 16, and completing the series in Los Angeles on March 19.
The two have been together for more than a decade and are at the forefront of Korean as the founders of the hip hop label Amoeba Culture. With so much experience, there's a large repertoire of songs that Dynamic Duo will perform during the tour and there's so little time to listen to it all. Our list features a few songs that will familiarize even the most casual fan of K-hip hop with the pair's sound.
1. "Jam"
Dynamic Duo's "Jam" ("Honey Jam" in Korean) is the group's latest popular single and was released last November. The innuendo-filled song and music video fit right in with the current groovy trend invading Korea's hip hop scene. The pounding, sexy "Jam" is all about being together and getting it on like bees do. "Honey jam, tonight's super fun," the pair sings as they compare themselves to hard working bees trying to get honey from the ladies. With a cameo from Honey Lee and a parody of BIGBANG, the music video is a lot of fun and different from many other videos Dynamic Duo released last year.
2. "Ring My Bell"
The song, featuring vocalist Naeul, was released in 2004 and is a remake of Anita Ward's "Ring My Bell" from the '70's. The Dynamic Duo song a more old-school hip hop style than some of Dynamic Duo's more recent, R&B focused songs. They definitely have a fond spot in their hearts for their debut song, and they've performed it over the years so even though "Ring My Bell" has a bit of a dated style, the song is a surefire banger that will get everyone moving.
---
---
3. "BAAM"
Dynamic Duo was caught by the exciting woman that makes them exclaim "BAAAM" back in 2013, but we're still singing this funky song a few years later. The beat-heavy song pulls out all of the guns with a variety of different genres explored throughout the track. The pair raps about the heartfelt feelings of a man who admires and loves a woman who is driving him crazy with her carefree lifestyle in this smooth, synth heavy song. With a variety of beats and vocal styles, including a really cool vocoder performance from UV's Muzie, "BAAAM" was ahead of its time and seems more like a song that came out last month than one that came out three years ago.
4. "J.O.T.S" feat. nafla
While "Jam" was the more popular single from "The Grand Carnival," but the pair also released the dramatic single "J.O.T.S" last November. "J.O.T.S" stands for "jump over the slump" and, fittingly, the song is all about hardships. The lyrics are raw as Choiza and Gaeko rap about their personal struggles; Gaeko raps about difficulties he's faced as a musician, comparing writing lyrics to solving difficult math equations as Choiza raps about struggling to live while finding happiness. nafla joins the pair in the aggressive, take no shit chorus of the song that declares "my future's so bright." The music video is a gritty, old-school style video that is a must see for any Dynamic Duo fan.
---
---
5. "Dodoripyo"
"Dodoripyo" doesn't appear on the setlist that MyMusicTaste shared from the upcoming tour, but it's still a personal favorite so a must for this list. The title, which means "repeat sign" in English, demands to be listened to in a car on a night when you have a lot to think about. While the album is called "The Grand Carnival," songs like "J.O.T.S" and "Dodoripyo" suggests that there are some dark clouds surrounding the fun times. The stripped down rap and laid-back instrumentals make it easy to imagine that the Duo earnestly put pen to paper and wrote the song in a matter of minutes while talking casually about their everyday headaches. Gaeko raps about the struggles of managing Amoeba Culture and the need for money to pay bills, alluding to his marriage and child, while Choiza mourns to go back to the past when life was easier and less hectic. The chorus is all about the desperate, repetitive life that they find themselves living in. It's dark, but "Dodoripyo" is Dynamic Duo at their most earnest and a song that everyone can relate to.
Want to attend? Tickets for the
the Los Angeles
show at Nokia Theater and
the New York
show at Playstation Theater are already being sold through AXS, while tickets for the Chicago show at Vic's Theater can be bought through
ETIX
. Fans who want to see Dynamic Duo at Atlanta's Loft theater can buy their tickets through
Ticket Alternative
.
What Dynamic Duo song do you want to see performed live? Share your favorite Dynamic Duo in the comment section below and be sure to subscribe to the site and follow us on Facebook, Twitter, Instagram, and Tumblr to keep up with all of our posts.
http://kultscene.com/wp-content/uploads/2016/03/Dynamic-Duo-e1456984154279.jpg
780
1100
Tamar Herman
http://kultscene.com/wp-content/uploads/2018/02/KULTSCENE-LOGO-2018-TRANSPARENT-RED.png
Tamar Herman
2016-03-03 04:24:22
2016-03-03 14:16:59
5 Songs to Prep You for Dynamic Duo's 'The Grand Carnival 2016' U.S. Tour