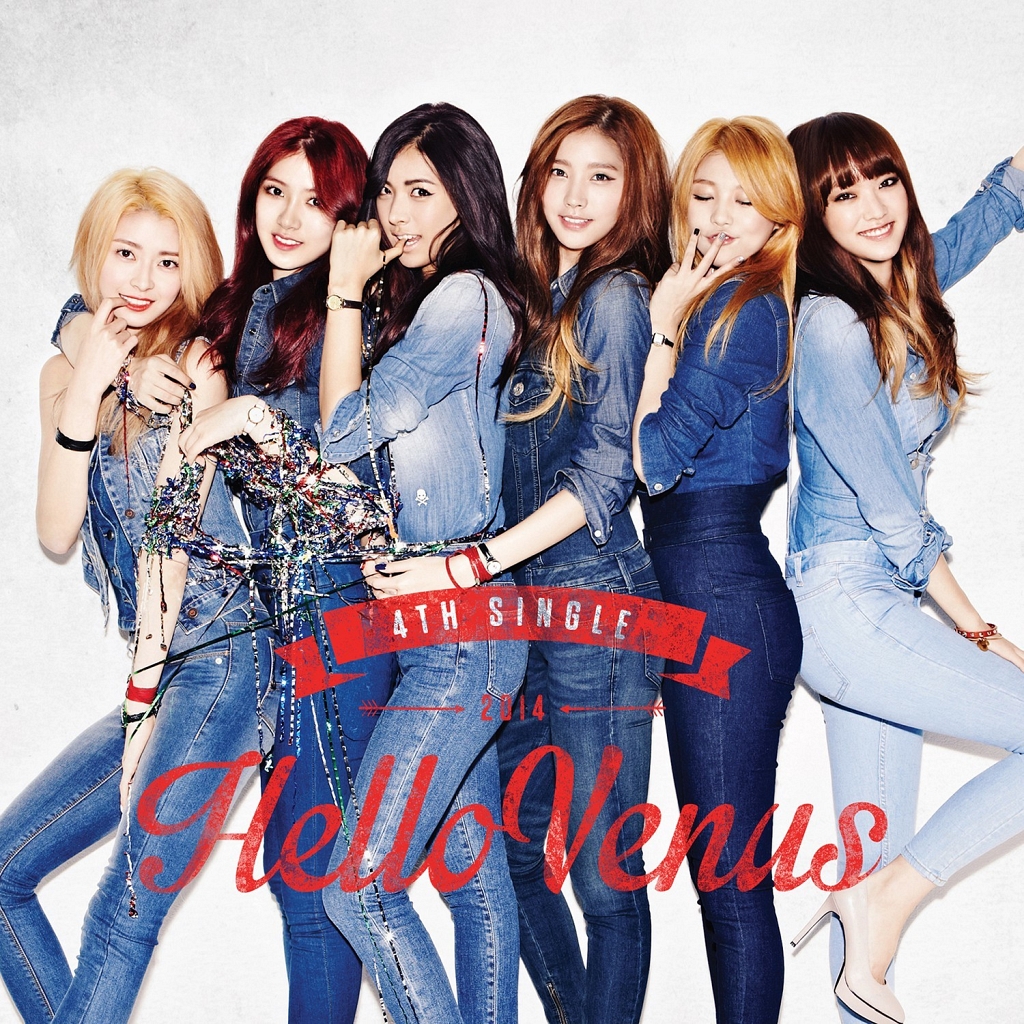 The release of Sticky Sticky has completely transformed what kind of a group Hello Venus is. This is not a new type of change either; it is one which we have seen more and more in the past two years. The sexy concept has become a staple of the K-Pop industry to the point where if a girl group is not doing so well, they immediately revert to it. I think this comes from Sistar's success with Alone, which may not seem too sexy right now but it was at the time. After Alone, Sistar gradually became one of the most popular girl groups in Korea. So naturally other girl groups would follow but at what price?
Hello Venus had been one of the more popular girl groups who debuted in the busy year of 2012. Their quirky, cute sound stood out in a crowd of groups who offered nothing new to being cute. What Are You Doing Today? was one of the songs of 2012 and Would You Like Some Tea? got to number six on the Gaon music chart. These songs were also interesting enough to foreshadow Hello Venus becoming big. I imagined them growing gradually and maturing in a similar way to Girls' Generation who had started slowly and became megastars, with the multi-talented Lime becoming their star of Hello Venus. This was not to be though, as a big change occurred that caused Hello Venus to change.
Pledis decided to pull out of the deal with Fantagio to co-produce the group and took the Pledis members, Yoo Ara and Yoonjo, with them. Fantagio kept the other four members and the Hello Venus name, so added two more members and decided to continue with their promotions. It also gave Fantagio a chance to alter Hello Venus' style quickly in order to pander to current trends. As I said, they went the sexy route and went for it in a big way.
As this trend grows, it becomes more of a problem. There was a time when sexy concepts were used to differentiate from the regular and shock an audience. Even at this time it is a tenuous subject as there is always a problem of objectification and fetishization of the body. As sexy songs continue to sell, women's bodies will continually be used as objects to help these sales. This activity reinforces a sexist agenda in society and punishes women who do not conform. It even punishes those who act on sexuality, even though they are taught this is what woman should be like. Especially in a conservative country such as South Korea, girls cannot be seen to be sexually active even if being sexy is the hot topic of the time.
If this type of performance is allowed to become normal, the sexism of the K-Pop industry will never stop. Girl groups will forever have to strip in order to succeed. Female idols will forever be seen as sex objects to sell records. Their bodies will forever be fetishized into whatever their company decides. There is already criticism of these things in the K-Pop industry to some degree, and girl groups becoming sexier to sell their music will just make the criticism even worse.
The reason I'm singling out Hello Venus for now is because they are the most recent group to go this way, and also because of the increased effort they are putting into grabbing attention with their "sexiness." Hot off the viral success of a fan cam of EXID's Hani, Fantagio obviously saw an opportunity to drum up some publicity for Hello Venus with their own viral hit. The recent release of a dance practice video to Jason Derulo's song Wiggle Wiggle, in which the Hello Venus girls danced along to the song, was their attempt at creating a sensation. I am not condemning the girls themselves here but those who led them to this. I fully believe people can do whatever they want with their own bodies but this video does not show us a group of girls who are just dancing for fun. This is blatant pandering to a male audience to stare at young girls gyrating their bodies, a cheap way of drumming up attention by essentially exploiting these girls.
This is not specific to Hello Venus though. We have seen recently Girls' Day move from their cute comedic songs like Twinkle Twinkle to sexy songs like Something, Expectation and Female President. This change also brought Girls' Day new success to the point where they are winning weekly music shows. AOA had a similar change of fortune when they adopted the sexy concept. Miniskirt boosted their sales in a big way and only grew with subsequent singles Short Hair and Like A Cat. It is clearly a trend which is in full flow but all trends eventually die, whether it's a few weeks or a few years. So do we wait and let it pass over?
I think we should not. Another trend will take its place immediately after and the issue will be forgotten. Allowing this to pass over means the patriarchal reign on K-Pop will always remain whether through sexy concepts or something else. I don't think sexy performances should be completely eradicated but I think the decision making has to be changed to allow female idols to speak up if they do not agree. At this moment in time female idols are not at an equal level to their male counterparts. We as fans must speak up against this; we must not allow this to continue. It's time for there to be a level playing field for genders in K-Pop.
What do you think about Hello Venus' comeback and of the sexy concept? Share your thoughts in the comment section below and be sure to subscribe to the site and follow us on Facebook, Twitter, Instagram, and Tumblr to keep up with all of our posts.
https://kultscene.com/wp-content/uploads/2014/12/380592.jpg
1024
1024
Joe Palmer
http://kultscene.com/wp-content/uploads/2018/02/KULTSCENE-LOGO-2018-TRANSPARENT-RED.png
Joe Palmer
2014-12-08 17:49:57
2014-12-08 17:57:44
Hello Venus and Sexism in K-Pop