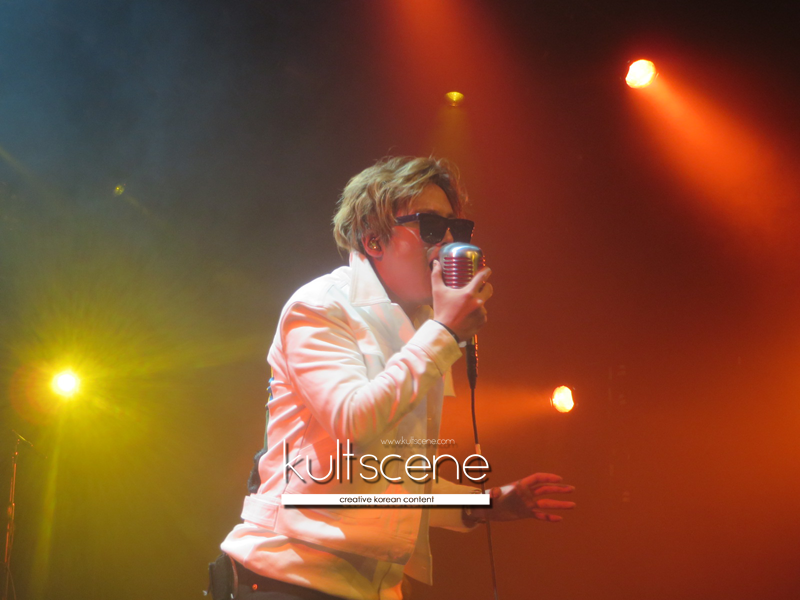 New York City's Snowmageddon-that-wasn't couldn't keep FTISLAND from performing its first solo concert in the city on January 28th.
The Korean quintet FTISLAND (short for Five Treasure Island) brought a dynamic range of energy that K-pop fans have been waiting years to see in New York at their FTXH tour stop. The band headed cries of East Coast Primadonnas, FTISLAND's fans, and flew to Washington D.C. and drove to New York in order to make the concert after a blizzard shut down New York City airports. It was freezing outside, and snow was all around midtown Manhattan, but inside Best Buy Theater, FTISLAND brought fans from all over the region together to forget about the chilly winter.
Lead singer Lee Hongki's powerful vocals and strong personality dominated the evening, but Lee Jaejin and Song Seunghyun's backing vocals stood their own, while leader Choi Jonghoon and Choi Minhwan's skills as versatile musicians were undeniable. Each member of the band was given time to shine, with vocal and instrumental solos dispersed throughout the night. Even though they looked exhausted at times, and made it clear that they were uncomfortable with speaking English to a native-speaker-filled crowd, FTISLAND brought a memorable performance to NYC.
The group has a large following in Asia, and expressed multiple times how shocked they were to discover American fans had been listening to their songs, while fans sang along with Hongki. Even though some fans weren't able to make it to the show because of the poor traveling conditions, the audience was clearly filled with people who loved FTISLAND's unique mix of K-pop and instrumental music.
The band opened the show with Last Love Song, and filled the night with hits like Madly, Memory, and switched it up by performing unplugged, acoustic versions of some of their most iconic songs, including I Hope and I Wish. The performances were stellar, and if they made a mistake, nobody in the crowd noticed. But the few non-musical aspects amidst the concert shone a light on FTISLAND's intimate thoughts, something that is often missing at K-pop concerts in the U.S.
With humorous tones when some of the members teased Hongki mid-show and the female translator wowed Hongki, FTISLAND's members opened their hearts to the New York City Primadonnas. The lead singer made it very clear that the group only recently had started really performing music that they loved, and that what people saw on television about the five wasn't always the truth. Even as Hongki brought his large personality to the stage, it was very clear throughout the night that, first and foremost, FTISLAND was there to play the music that they personally wanted to perform for their fans. The biggest surprise of the night was when Hongki announced FTISLAND's upcoming album, to be released in March or April. The band ended the night with a new song, On My Way for the encore performance, differentiating FTISLAND's NYC show from recent shows in Europe and Latin America.
The concert clocked in at less than two hours, but FTISLAND's vigor-filled concert lacked nothing. As the band members walked off stage, throwing guitar picks into the audience, it was clear that even though this was FTISLAND's first performance in New York City, it didn't disappoint.
This slideshow requires JavaScript.
What's your favorite FTISLAND song? Have you ever seen FTISLAND perform live? Share your experience in the comment section below and be sure to subscribe to the site and follow us on Facebook, Twitter, Instagram, and Tumblr to keep up with all of our posts.
https://kultscene.com/wp-content/uploads/2015/01/ftisland-hongki-kultscene-.png
600
800
Tamar Herman
http://kultscene.com/wp-content/uploads/2018/02/KULTSCENE-LOGO-2018-TRANSPARENT-RED.png
Tamar Herman
2015-01-29 20:49:40
2015-01-29 20:49:40
FTISLAND Give Vibrant Performance in NYC & Announce New Album