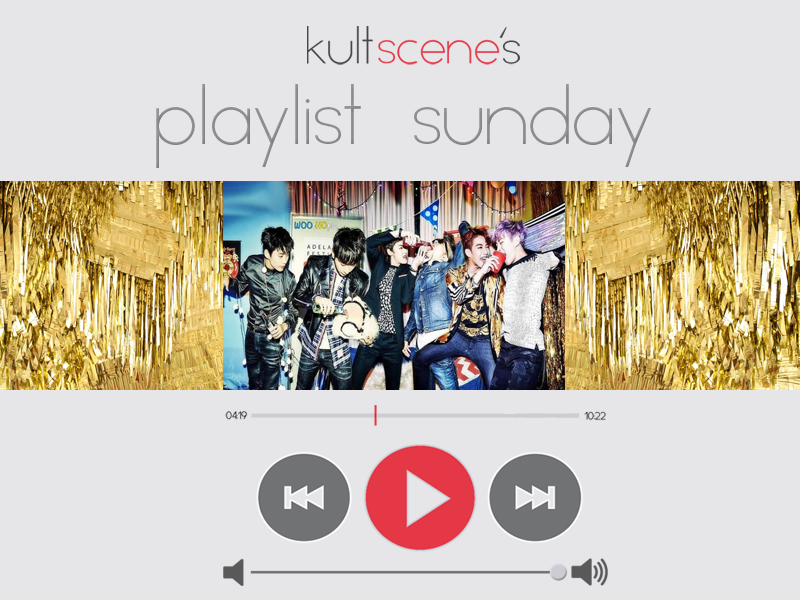 The last Sunday of the years means two things: that New Year's is just around the corner and that this edition is KultScene's last for the year. And in order to ring in 2015, as it has become a custom, we've come up with a list of songs around this theme. Our picks range from songs about new beginnings to saying goodbye.
U-KISS's Tick Tock (Out of Time) is the ultimate New Year's Eve theme, both the Japanese and Korean versions of the songs. January 1st brings a new start, but it also brings an end that's poignant. The clock theme relates to New Year's Eve countdowns, but the connection doesn't just stop there. With lyrics like "Tonight we gonna party like we're out of time," and "Time flows so let the memories pass," U-KISS does the New Year right.
–Tamar
miss A's is the embodiment of a powerful and independent girl group, and Over U continues that theme. The song is essentially a breakup song for a man who continuously convinced the girl to stay in the toxic relationship. Finally she realizes that he's bringing her down and she's ready to be free of him. She's ready to be happy, like she was before she knew this man. The girl is ready for a clean slate and to forget about that horrible relationship. And doesn't a new year mean a lean slate?
— Tara
This year in K-Pop had too many bad days, so as a song to welcome the New Year, IU's Good Day is perfect. It is the most joyful, hopeful and wonderful song you could ever find. IU's voice is just as good especially at her famous three octaves in one note part. We must see things in a new light just like the lyrics of this song as we look forward to 2015 and hope that we have good days then.
–Joe
Lee Hi's song It's Over talks about the end of a tumultuous relationship. This year was known as the K-Pop Apocalypse and this song is the perfect metaphor to say goodbye to this catastrophic year. The video comes with a super cute teddy bear as Lee Hi's ex-boyfriend is dressed as the members of BIGBANG, paying tribute to her label mates and seniors. Lee Hi's strong vocals and the very cute age appropriate image of this music video create an interesting combination that makes her stand out from other solo artists. So on this last Sunday of 2014, let's say goodbye and cheer for an amazing 2015!
–Alejandro
Whether 2014 was a good or bad year for you, with a new one coming up there's a sense of letting the old one go once and for all. And there's no better song out there to say just that than Super Junior-M's Go. While the song is about a relationship (what K-Pop song isn't?), us English speakers can ignore all that and just focus on the chorus. Let's encouragingly bid farewell to 2014 while singing, "Go! Just let it go! Go go go go go!" The new year brings with it a metaphorical new slate, so past troubles should be left behind with the memory of the past year.
–Alexis
What songs are on your New Year's Eve playlist? Share your picks in the comment section below and be sure to subscribe to the site and follow us on Facebook, Twitter, Instagram, and Tumblr to keep up with all of our posts.
http://kultscene.com/wp-content/uploads/2014/12/KultScene-Playlist-Sunday-Happy-New-Year-Featured.png
600
800
KultScene
http://kultscene.com/wp-content/uploads/2018/02/KULTSCENE-LOGO-2018-TRANSPARENT-RED.png
KultScene
2014-12-28 17:23:44
2014-12-28 21:03:12
Playlist Sunday: New Year's Edition